Artist based in Philadelphia, PA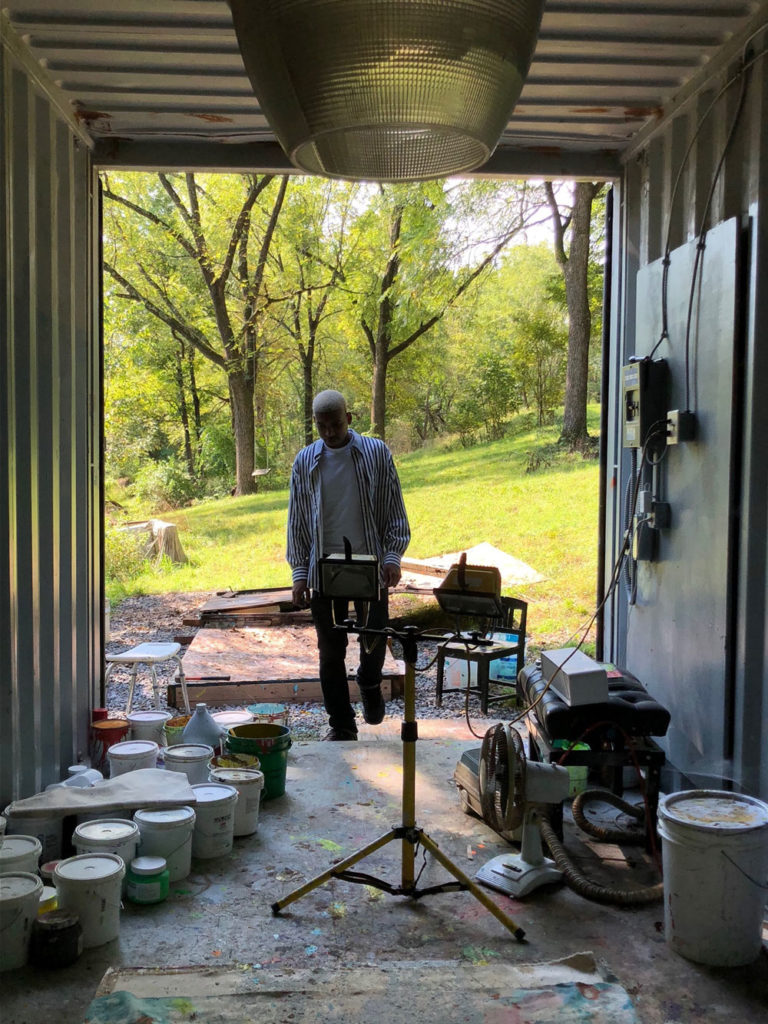 Yannick Lowery, Portrait of the Artist

Tell us about yourself, what's your background?
I've always wanted to be an artist. Both my parents were visual artists and I cite the rich diversity of their visual art histories as fuel for my own practice. A life in the arts was the expected step, but my rebellious spirit delayed that destiny for many years while I worked as a professional chef. I was born in New York City and grew up in the Fort Greene area of Brooklyn. Growing up in a creative environment, I realized early on that being an artist was the most effective way of communicating the intangible, and one the most valuable contributions someone could make. I also recognized and feared the weight of it. It took a long time to realize the weight wasn't the expectation or the responsibility but its absence.
I currently reside in Philadelphia, PA and I claim several cities in the Southern and Midwest regions as cultural and creative influences. I attended The Atlanta College of Art (now SCAD) and Columbia College in Chicago, where I studied sculpture and graphic design, respectively.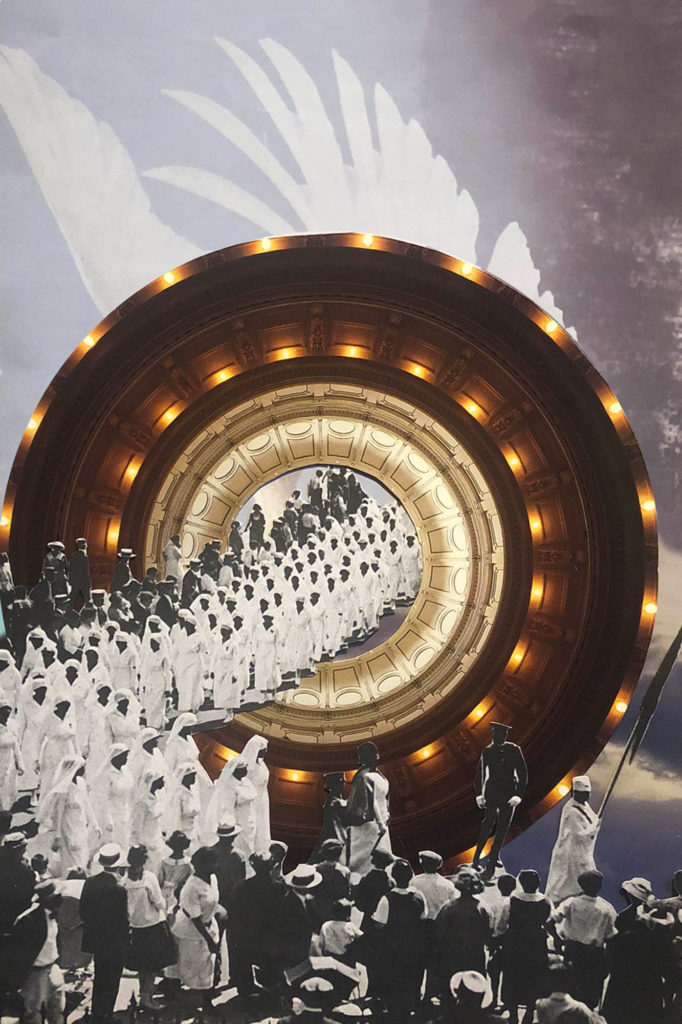 Saints, 2020, paper collage, 10" x 12"

Named Myself, 2020, paper collage, 10" x 11.5"
"As an avid reader, and traveler, my work is also informed by historical texts, African literature, feral urban gardens, kite-flying, and pandemic-induced inward journeys."


Zoom Update, 2020, paper collage, 8" x 9"
What are you currently working on and where did the inspiration for it come from?
I am currently working on a public installation project that uses West African barbershop imagery, in an attempt to measure the impact of the "Black Lives Matter" movement. A photo is taken weekly to document any alteration or vandalism, weather impact, and generally the daily wear and tear of a work of art inhabiting an exterior space. My goal is to document how the public interacts with the imagery. The interaction culminates in a photo series that illustrates the lifespan of the image and the "writings on the wall".
Unbothered, 2020, wheat-pasted paper 36" x 24" Work in progress
I became interested in West African barbershop paintings during a trip to Ghana in my teens. I was drawn to them because they seemed to be based on prototypical ideas of Black beauty. These bold illustrations are created as the ideal representation of the Black figure for potential customers to aspire to. By using these images as a submission for public critique, I put forth question beyond whether or not Black lives matter; and also querying deeper and asking whether or not Black lives can be unbothered.
Untitled, 2020, paper collage, 7" x 9"
Innovation does not only happen in the field of technology — it occurs everyday in an artist's practice. What do you do for inspiration?
I would describe my current collage work as being activated by societal justice/injustice, materiality, and visions of alternate futures. As an avid reader, and traveler, my work is also informed by historical texts, African literature, feral urban gardens, kite-flying, and pandemic-induced inward journeys.
Burden of Strength, 2020, paper collage, 9" x 10"


Where do ideas start for you? In the studio or being in the world?
I would definitely say the majority of my ideas come from my response or interpretation of experiences in the world. Inspiration may come from a photo I've taken, a movie still, song lyric or just a color combination. I pay close attention to the trends of thought or opinion on the Internet, or even the aim of a simple meme and try to parallel its prose with historic reference and futurist concepts.

Paper assembly in studio.

(left) A photograph I took in Philadelphia for color reference for "Bodega" (right) Bodega, 2020, paper collage 6" x 8"
(left) Screenshot from "Wyatt Cenac's Problem Areas" used as reference for "Beach day". (right) "Beach Day", 2020, paper collage, 8" x 10"

(left) A photo I took last summer and reference for "Clarity". (right) "Clarity", 2020, paper collage, 5" x 8" #9.

How do you make your work? Where do you start and how does the process evolve?
My work is often dealing with the idea of collective memory and/or collective premonition so it starts with being ultra sensitive to historical and current trends. I utilize found paper to act as timestamp as well as a time capsule and a physical reference of shared experience. Layering paper allows me to explore the parallels of time specifically focusing on the Black American experience.
(left) Screenshot from "When the Levees Broke: A Requiem in Four Acts." and reference for "Katrina" (right) Katrina, 2020, paper collage, 7" x 9"
My style is constantly evolving but it's been a personal process of dissecting ideas into layers to understand the present and possibly forecast the future. Using collage, allows me to use those layers as narratives to illustrate images with multifaceted interpretations.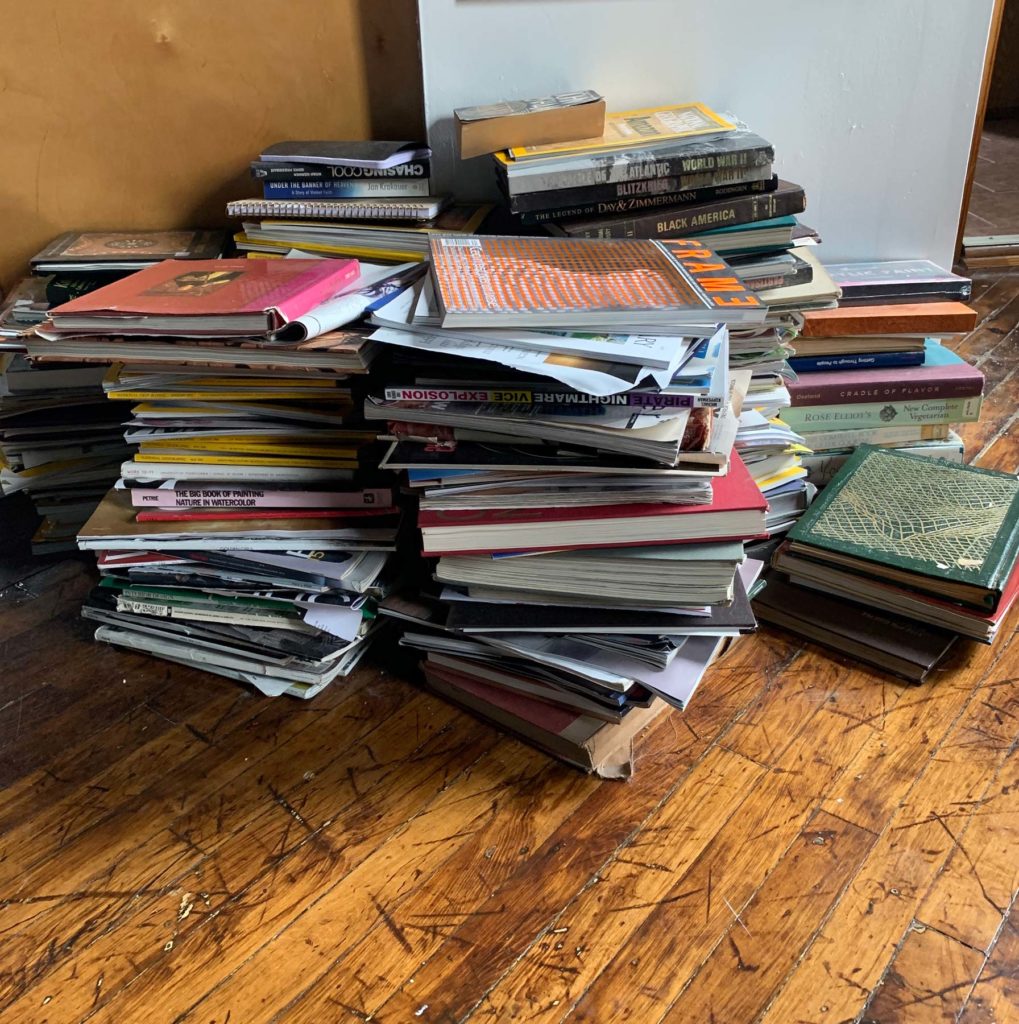 Many artists live by their creative routines, do you have your own studio ritual? What does that look like for you?
I have two distinctly different work sessions. One is an ongoing collecting, scavenging and studying of paper materials. The second is rest. When I wake up, I've often made most of the paper configurations in my head.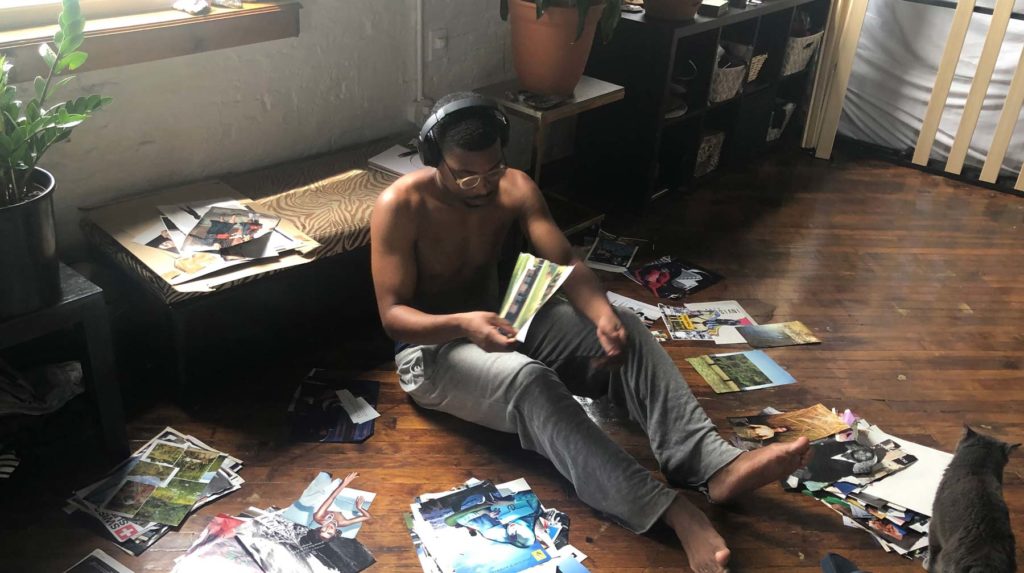 Besides that, I've tried not to be tied down to a specific ritual. I wouldn't want my work to be dictated by a certain set of curated circumstances that I might not be able to replicate.

Who are your biggest influences?
Toni Morrison, Peter Bradley, Frank Ocean, Takeshi Kitano, and my mother. Each of these people spark ideas through words or color. The influence they've had on my ideas are similar to the way I'd like people to feel when seeing my work.

Solatium, 2020, paper collage, 6" x 8"
Are there books or films that are an important source of inspiration?
Song of Solomon, Black Futures, Sonatine (1993), Akira (1988), No Country For Old Men (2007), Black Dynamite (2009). The vivid imaginations of these projects are a continuous inspiration.

Crossover, 2020, paper collage, 11" x 11"
How will Innovate Grant contribute to your practice?
Being rewarded with this grant would inspire the continuity of my art practice. The funds would aid with the cost of art materials as well as inspire new projects and collaborations.

Influencer, 2020, paper collage

What's the best piece of advice you've been given?
"Mediocrity is the majority." -Lisa Bradley
What is the best advice you would give to other artists?
No one sees it quite like you. Make sure you value your own perspective.
---
View Yannick Lowery Portfolio
Stay up to date with Yannick Lowery
Instagram @severe.paper
www.severepaper.com