Photographer based in Brooklyn, New York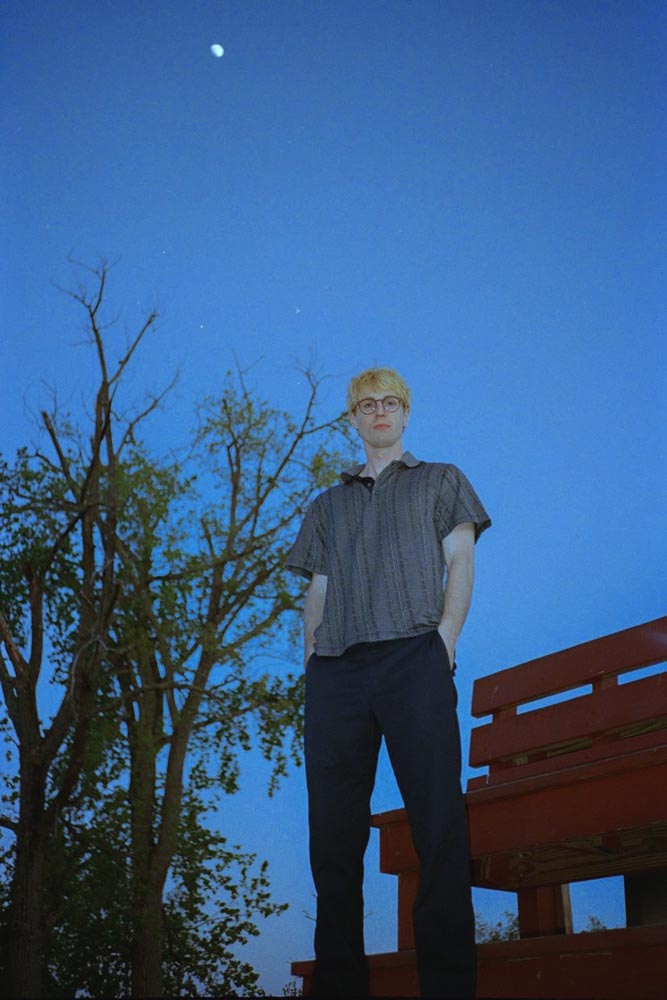 Tyler Frigge, Portrait of the photographer

Tell us about yourself, what's your background?
Being an artist always seemed like a far-away thing I would never give myself permission to commit to. Although I showed an interest in what little artistic outlets I was exposed to as a kid, athletics were the primary extracurricular agenda offered to me and for better or worse I became a Division 1 long-distance runner. As this came to an end I began an identity crisis as many athletes do. Around this time I started picking up a camera and slowly introduced myself to artistic influences for the first time. I then eschewed the pragmatism instilled in me over all those years and took the art school plunge. I'm in my final year of the BFA program at the School of Visual Arts.
Housefly, 2022
"I was thinking and reading a lot about the domestic environment and that's become the stage for these images. As a topic, it encapsulates so much about the way that we exist."
Nussy, 2022
What are you currently working on and where did the inspiration for it come from?
Right now I'm primarily working on my thesis project for my final year at SVA. I was thinking and reading a lot about the domestic environment and that's become the stage for these images. As a topic, it encapsulates so much about the way that we exist. Ideas for this project likely started happening during the pandemic.
Foot Over Screw, 2022
Innovation does not only happen in the field of technology — it occurs everyday in a creative practice. What do you do for inspiration?
Ideally, I like having time alone to relax and let my mind wander without the pressure of formulating anything of substance. Zoning out on the subway on my way home late at night often breeds some interesting thoughts.
Empty Room, 2022
Describe your practice and process. Where do ideas start for you? In the studio or being in the world?
Initial ideas can be so silly, but I'll write them down and come back to them repeatedly. I have a lot of loose ends on various devices and in notebooks. I also, try to maintain a healthy exposure to other mediums as I find they can inform my photography quite a bit. Lately, I've mostly been reading poetry and trying out stream-of-consciousness writing which has been helpful in leading to an image, or at least a potent idea.
Face Mask, 2022
How do you make your work, does it start with a sketch?
If I do sketch it's incredibly crude and not informative to anyone but myself. I often jot down bullet points of the necessary logistics for the image, who, what, and how to execute the idea. I find I spend so much time trying to be a better planner, writing down fully formed ideas so that I can explain them to whoever I'll be working with. Many of my favorite images are done intuitively with very little planning at all. The element of chance in photography often prevails.
The Wasp, 2022
Do you have your own studio ritual? What does that look like for you?
I don't have a studio, and since I'm very busy with work and school there is no routine. The motivation and ideas build up throughout day-to-day life. Having a lot of time where I'm forced to take my mind off of my current project is probably important to reset. When I know I'll have a few free days to shoot something, the sense of urgency to make it happen is really strong.
Spray, 2022
Who are your biggest influences?
Maggie Nelson, Frank O'Hara, Larry Sultan, Jeff wall, Diane Arbus, Francesca Woodman, Robert Bergman, Allen Frame, Tanyth Berkeley, Ralph Eugene Meatyard, Joanna Piotrowska, Sadie Benning, David Lynch, and lots of different music that evokes the right feeling - Brian Jonestown Massacre, ML Buch, SALEM, Massive Attack, Joanne Robertson, and Iceage among lots of others I can't think to name at the moment.
Nude in the Woods, 2022
Are there books or films that are an important source of inspiration?
Bluets by Maggie Nelson, Actual Air by David Berman, The Man who Married Susan Sontag by Edward Field, Sexuality & Space by Beatriz Colomina, low budget Safdie Brothers films, John Cassevettes, Sadie Bennings experimental video works, Wim Wenders, Possession directed by Andrzej Zulawski and Woman of the Dunes directed by Hiroshi Teshigahara are two recent favorites.
Untitled, 2022
What's the best piece of advice you've been given?
This pains me because teachers have given me so many great lines that are escaping me right now. Here's an excerpt I have scribbled in my notebook from City Poet, a biography on Frank O'Hara by Brad Gooch I've been reading, which has been helpful in taking the pressure off to create perfect, complete ideals of a piece of work - "Frank's idea, you didn't have to assume any stance. You just start from whatever you felt like at the moment. You didn't have to put on an act, a poem could be whatever you might say to a friend over the phone…."
What is the best advice you would give to other artists?
When getting overwhelmed or stagnant, remind yourself why you started creating in the first place and think about what else you'd rather be pursuing. Taking that step back to check in with yourself can be very relieving as simple as it is. Your practice doesn't always need to be burdened with high expectations, treating it with some playfulness often puts me in motion again.
Nude in Bedroom, 2022
---
Stay up to date with Tyler Frigge
Instagram @tylerfrigge
tylerfrigge.cargo.site