Artist based in Casper, Wyoming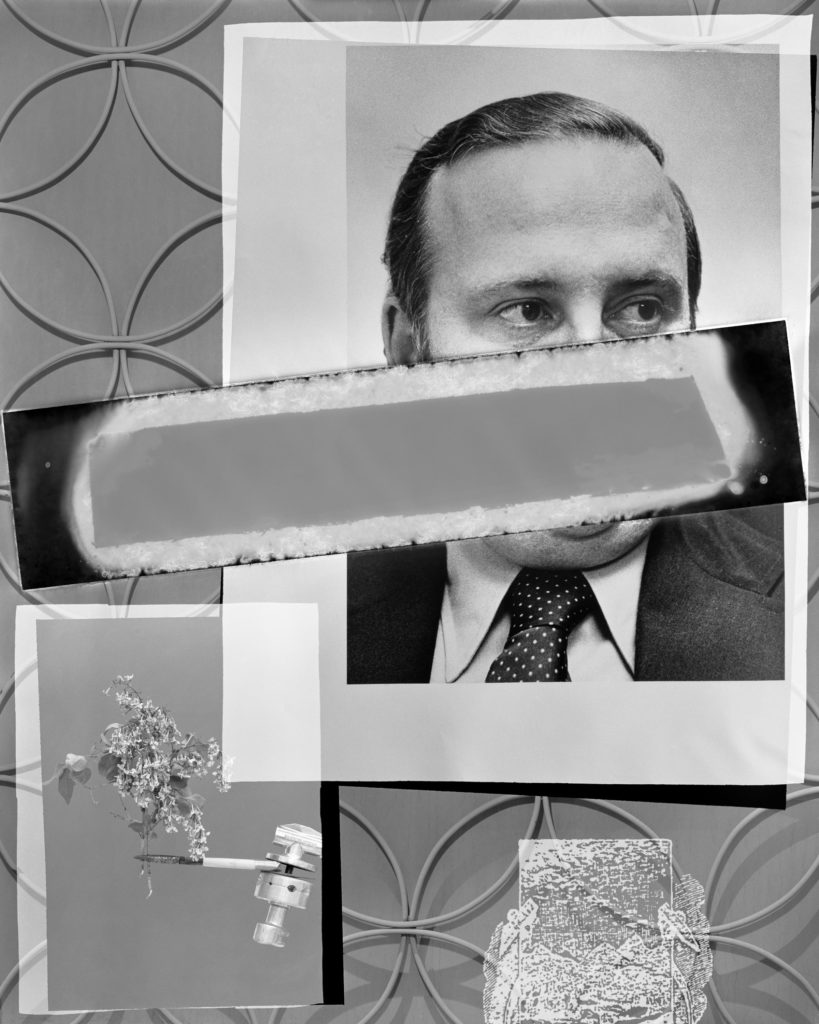 Deposition 2020 24x30 inch Silver Gelatin Print
Tell us about yourself, what's your background?
I am an artist, educator, and publisher interested in making, teaching, and promoting emotive work. My education is in photography, and I hold degrees from Rhode Island School of Design and Columbia College Chicago. I have been using lens-based capture devices since I was young, documenting my friends and myself skateboarding in suburban Detroit. However, it was not until I began my undergraduate education in cinema that I solidified my interest in photography and subsequently changed paths.
Groundless Structure 2021 32x40 inch Silver Gelatin Print
After Ansel no.2 2020 30x24 inch Silver Gelatin Print
"This work is created within a studio environment and the physical landscape ... One informs the other and vice versa. If I am making a photograph, I will most likely "find" or observe it in the world at one time or another."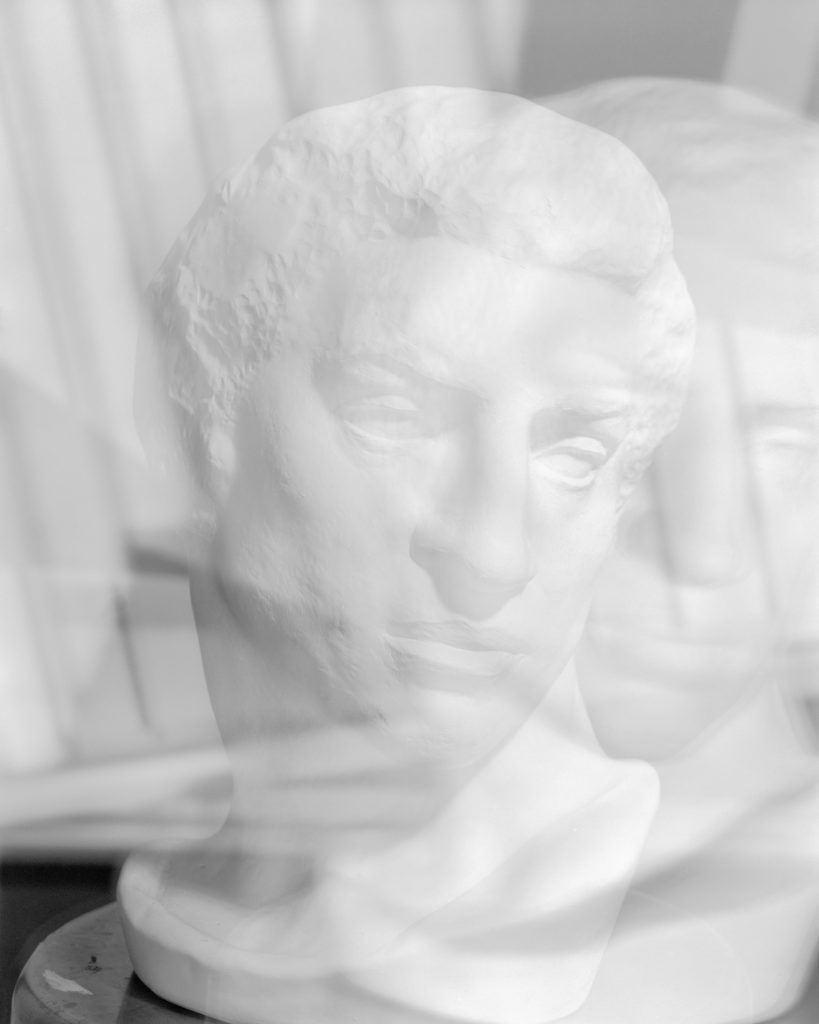 Loss (Shift) 2021 24x30 inch Silver Gelatin Print
What are you currently working on and where did the inspiration for it come from?
Currently, I am continuing the Angle of Draw series, though primarily focusing on creating in-camera multiple exposure collages rather than single photographs in my studio. Inspiration has come from a lifelong fascination with American structures of power and control informed by Detroit's automotive culture and exasperated by my move to Wyoming, USA, during the Trump presidency in 2018. The landscape that falls within Wyoming's border is dependent on antiquated methods of energy production, which I view as a reflection of the current sociopolitical state of America and see many parallels to the auto industry of yesteryear in Detroit.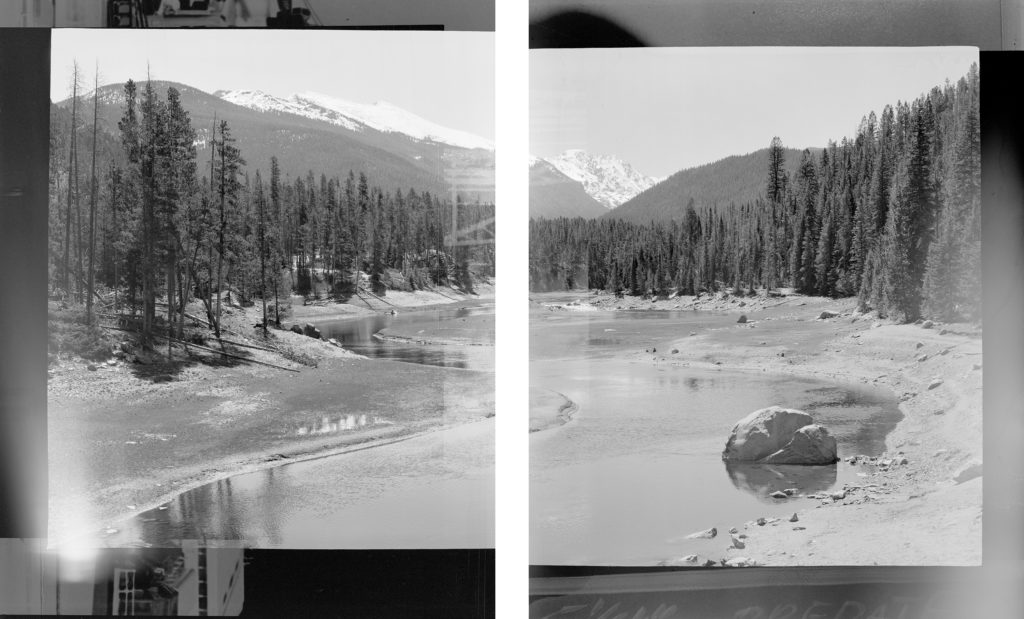 Shadow of Industry 2022 16x20 inch Silver Gelatin Prints
Innovation does not only happen in the field of technology — it occurs everyday in a creative practice. What do you do for inspiration?
I look at other visual artists and research more into the history of fossil fuel extraction daily. My location itself is also an everyday inspiration. It is a beautiful place fraught with visual contradictions where I can view a gorgeous mountain, turn around and see multiple oil refineries along the horizon.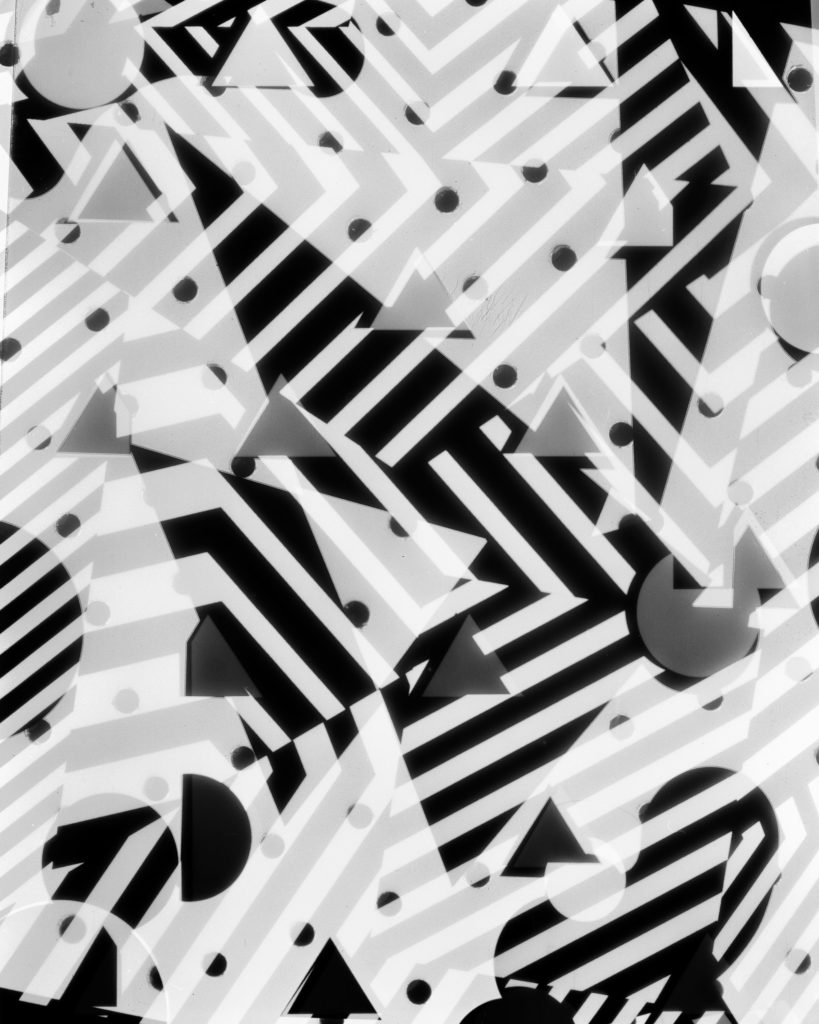 Subsequent Cartography 2020 24x30 inch Silver Gelatin Print
Describe your practice and process. Where do ideas start for you? In the studio or being in the world?
This work is created within a studio environment and the physical landscape, so it is a mix of both. One informs the other and vice versa. If I am making a photograph, I will most likely "find" or observe it in the world at one time or another. If I am making a collage, there is a bit more research and production that is necessary that usually starts in the digital studio and then moves into the physical studio and landscape.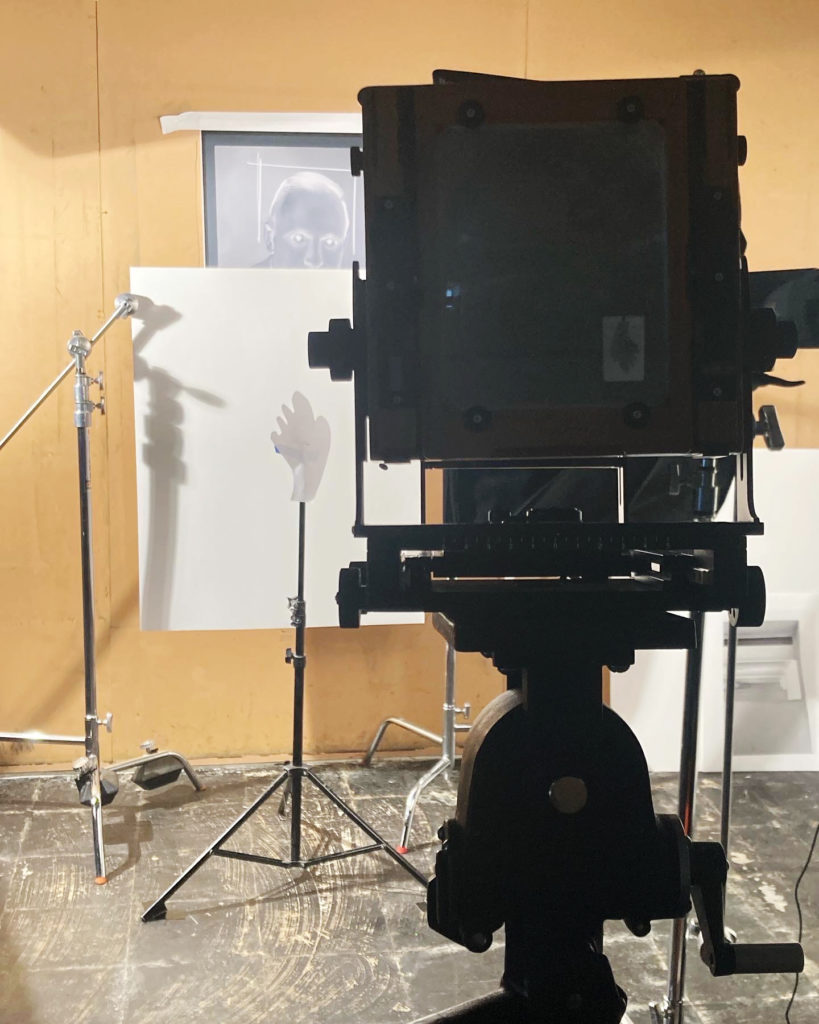 Studio setup showing mask hole and spot marker.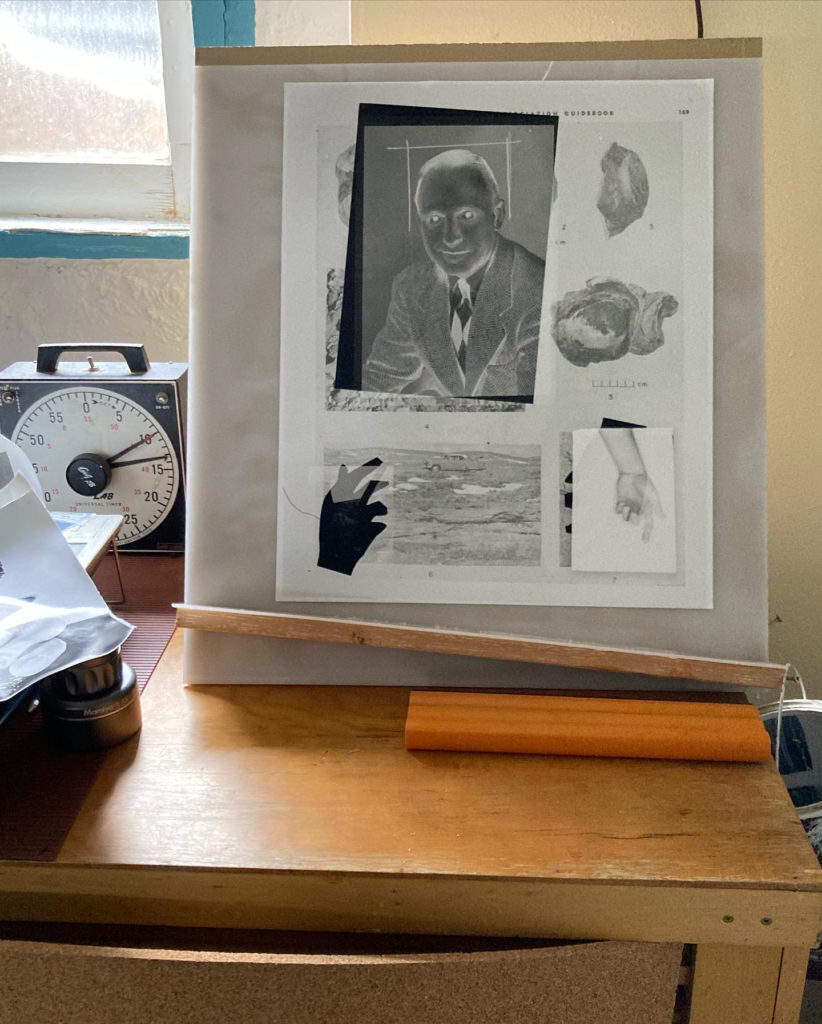 16x20 inch Silver Gelatin print fresh from the wash.
How do you make your work, does it start with a sketch?
Work starts with written notes about what I want to achieve conceptually, along with ideas on how I can do that visually. If I am making a single or straight photograph, the notes and writing prime me for being aware of how I can capture those ideas as I move through the real world. Much of the work is collage-based, and though the final product is an organic culmination of registration and misregistration of individual photographs on the 4x5 inch (and sometimes 8x10 inch) film plane, they often start by photographing on my phone and constructing digitally.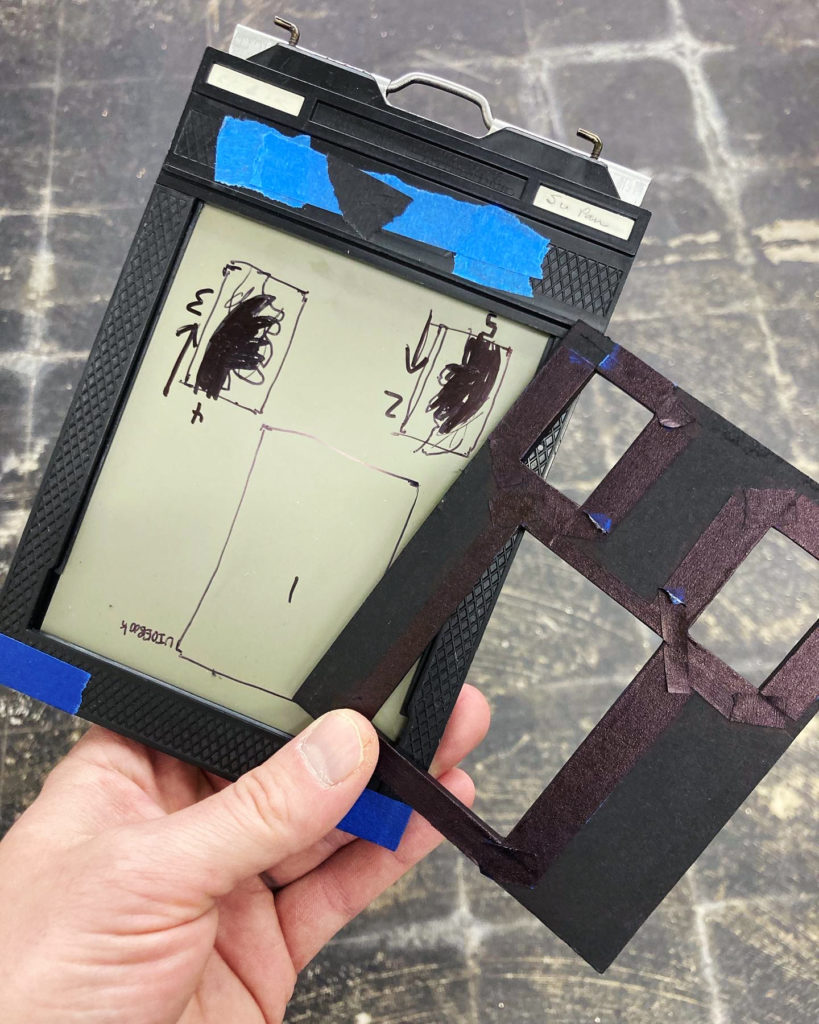 Creating a digital mockup gives me an idea of how to expose and where to place the masks on the film plane and within the camera's ground glass. It allows me visually work through my ideas before physically making them, which is a laborious process. I generally spend 8-12 hours creating a college with anywhere from 2 to 12 (or more) exposures, masks, and setups repeated on four different sheets of film to provide options. In terms of the style or visual aesthetic, I am very much informed by propaganda photographs of the 1950/1960/1970s.
Do you have your own studio ritual? What does that look like for you?
I don't have a ritual other than trying to be in the studio working, sketching, or constructing by 8 am, eat lunch at noon, develop around 5 pm, and then have negatives scanned by 7 pm. Music and black tea are a must when working at all times. I don't have any specific playlists or genres that I listen to, but I enjoy listening to music from Mali blues to Motown to bluegrass.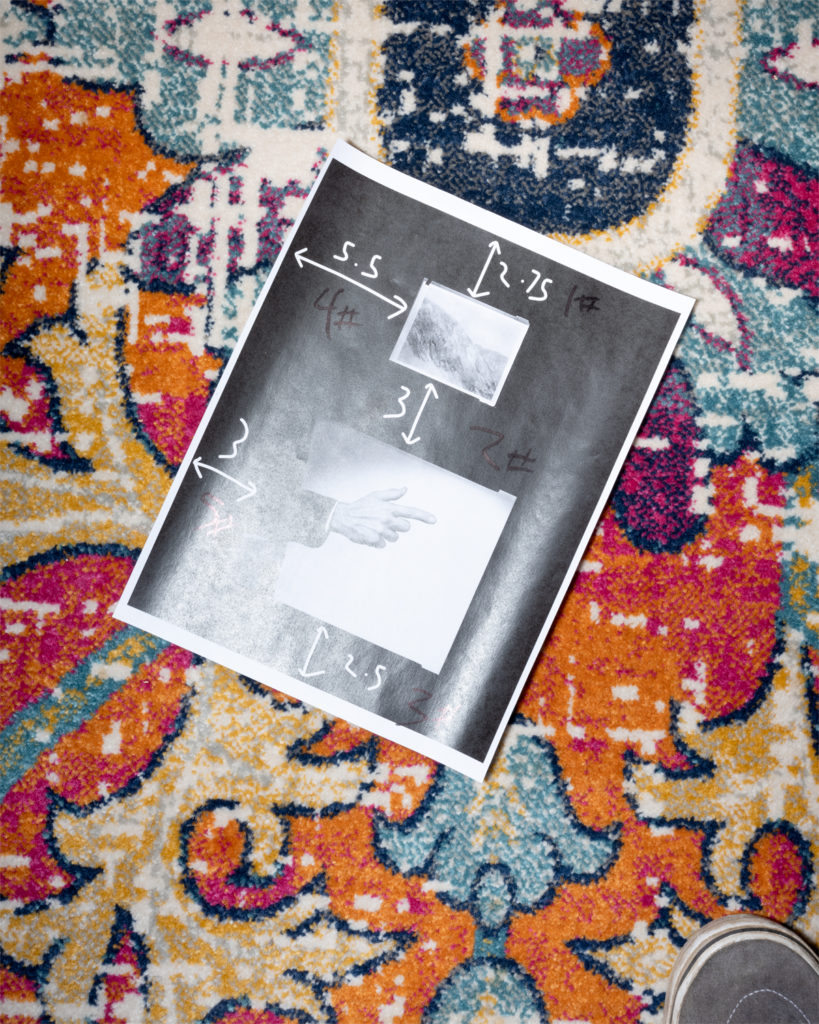 Who are your biggest influences?
My influences ebb and flow based on my interests, though I generally attach to one or two aspects of an artist's practice or art movement. Recently, I have been excited about the work of Robert Cummings, Aspen Mays, Zeke Berman, and Bernard Viota. In addition, I am beginning to be influenced by the drama of paintings, etchings, and prints from the Renaissance era, hoping that I can use some of that energy and emotion within my works.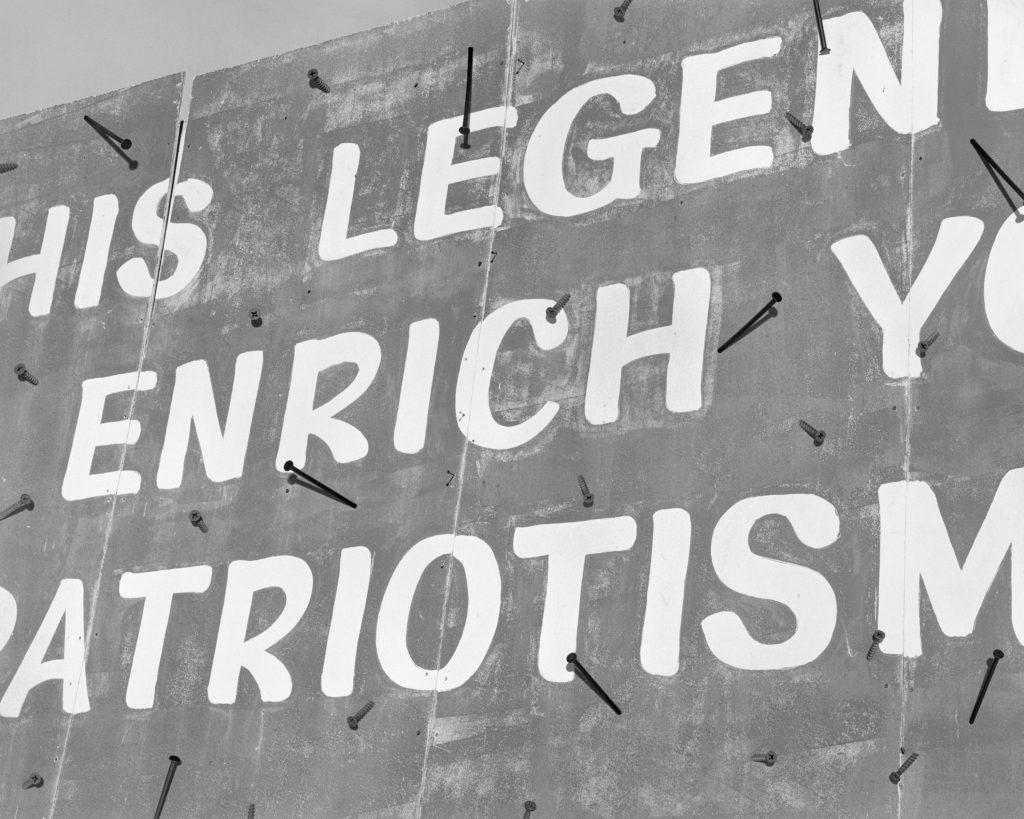 Past (Present) 2021 30x24 inch Silver Gelatin Print
Are there books or films that are an important source of inspiration?
Much of the Angle of Draw series was inspired by propaganda media of the 1950/1960/1970's which often used a very stark bare bulb flash that created dense shadows. When this work began, I made a small zine or booklet of screenshots from an archive that I purchased from a propaganda photographer active during that era and then used that as a rough blueprint for how I would begin to construct my images.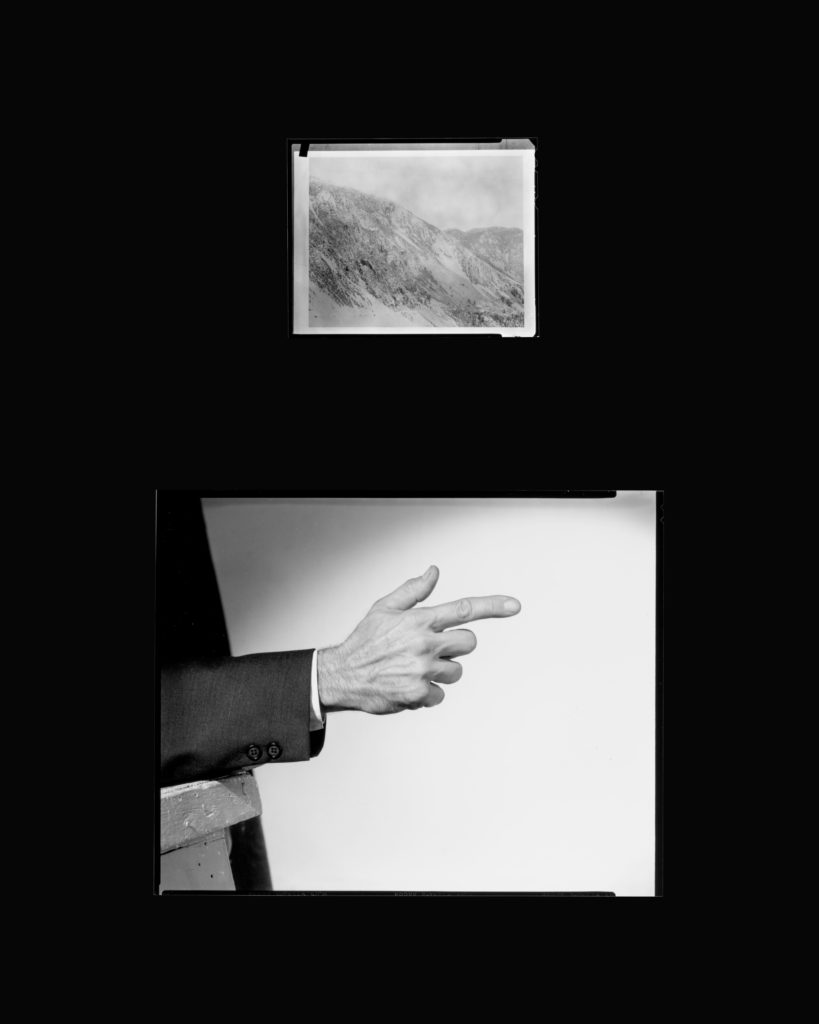 The Ploy 2019 16x20 inch Silver Gelatin Print
What's the best piece of advice you've been given?
I wish I had an inspirational quote that would be easy to present and digest, but I do not. The biggest lesson I have learned or been advised on is to find meaning and worth within the process of making, regardless of the outcome of that work, as most of what one makes is rarely shown or deemed as "successful." Finding worth keeps a little fuel on the creative fire and allows one to stoke the fire when inspiration hits.
What is the best advice you would give to other artists?
Everyone needs help and support, which could mean feedback on work/ideas or simply connecting with other artists on a basic human level. My suggestion to all artists would be to create as much as possible while focusing on building community. Art comes from passion. That passion is rarely recognized, and I find it extremely helpful to have a community that understands the grind of being an artist and the politics attached.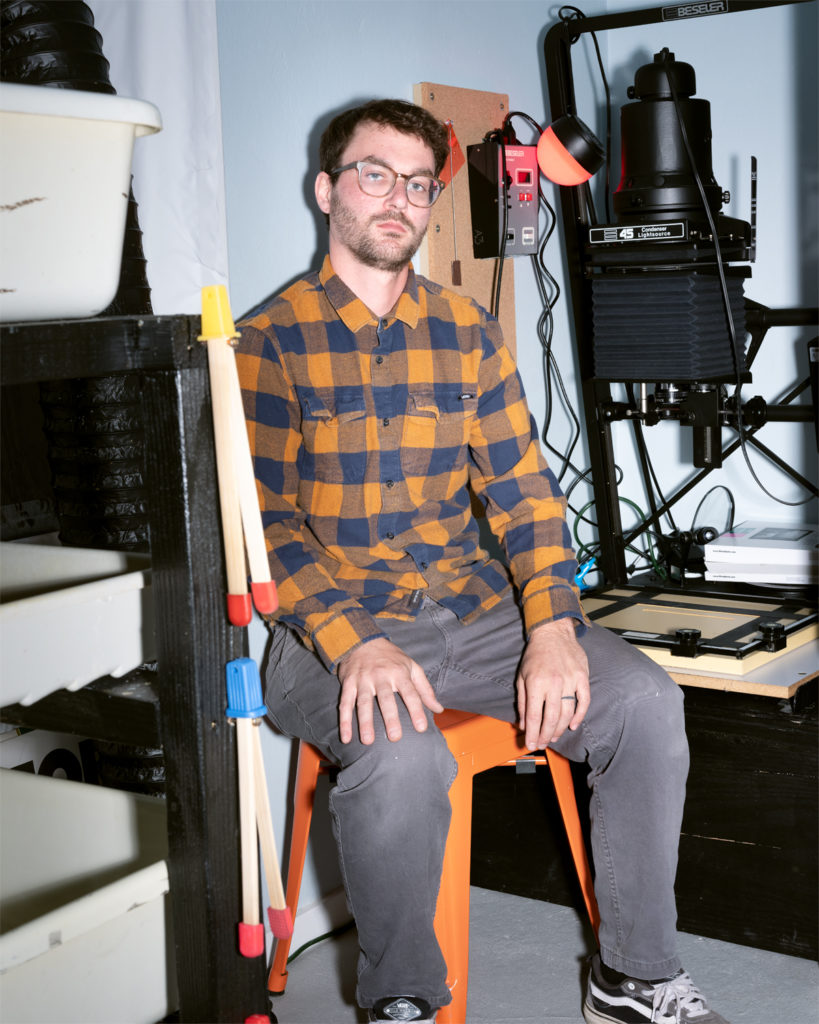 Shawn Bush, portrait of the photographer
---
Stay up to date with Shawn Bush
Instagram @notthatbush
shawnbush.com