Artist based in Manchester, United Kingdom
Parham Ghalamdar, Portrait of the Artist

Tell us about yourself, what's your background?
I am a painter, animator, and researcher based in Manchester. I was born in Iran to an Iranian-German family. I got my diploma in Mathematics and Physics, My first BA was in Engineering Print and Media. I then moved to the UK and studied BA (Hons) Fine Art at Manchester School Of Art. I am currently finishing my MA Painting at the same school under the tutorship of Dr. Ian Hartshorne.
My first step into the art world was writing graffiti. Perhaps that was the right response from an angry teenager toward the brutalist environment of Tehran. I was trying to add some color to my grey birth-place. So, I guess I was always looking for ways to respond to my surroundings in creative ways. However, my curiosity led me to something more historically established and theorized: Painting.
In the studio
"My ideas are always driven from existence, existents, and existing in the city and then digesting the school of existentialism in the isolation of the studio."

Installation views of Parham Ghalamdar's solo exhibition at Workplace Foundation, Gateshead, UK.
Courtesy of Workplace Foundation. Photographed by John McKenzie
What are you currently working on and where did the inspiration for it come from?
Painting is at the core of my practice. I am so happy to be back in my studio and paint again since the lockdown restrictions are gradually eased. I have currently focused on studying Piero Della Francesca's murals at the Basilica of San Francesco located in the late Medieval church in Arezzo, Tuscany, Italy. I am deeply inspired by Philip Guston's lectures and writings on Piero's paintings as well. Guston talks about the picture plane in Pierro's paintings as "illusions" or "places" where forms of this world including trees, people, furniture, and objects come to a momentary "pause". Pierro's paintings are paused, not stopped or stuck. As if Pierro's paintings are selected frames from a much bigger storyboard. Perhaps being there in the church - where the painter himself painted those pictures and witnessing the wall paintings was a cinematic experience in the pre-modern world. What if these paused scenes could be unpaused?
My recent paintings based on Piero's Constantine's Dream are an attempt to imagine prequels and sequels to the painting. An endeavor to render the promised infinite, celestial, and cosmic qualities of the master's works. I am basically trying to stand on the shoulders of the giants. This ongoing series of paintings will be exhibited later this year at the Abingdon Studios & Gallery.
Left: Constantine's Dream wall painting by Piero Della Francesca. Right: Drawing on the image of Piero's painting for analyzing the composition
"Lobster's Dream" oil painting on Pearlescent paper in 42x29.7 cm
Innovation does not only happen in the field of technology — it occurs everyday in an artist's practice. What do you do for inspiration?
My practice is first and foremost concerned with ways of disciplining an image by relying on the histories and traditions of painting. My overwhelming concern is that painting is about perception and perceptual existentialist ways of experiencing life. However, life doesn't always go as planned. In the absence of my painting studio, audience, gallery, and physical art scene during the Covid-19 pandemic I needed to renegotiate my practice. So, I started to achieve innovation by expanding my painting practice into the digital realm. I started to make stop-cell animations and AI-generated still and moving images. During the national lockdown, I was making digital works in which the ghost of painting was present in the modification rather than being the final outcome. I guess the only viable source of inspiration during the lockdown was the digital world, the virtuality. As if the reality isn't complicated enough.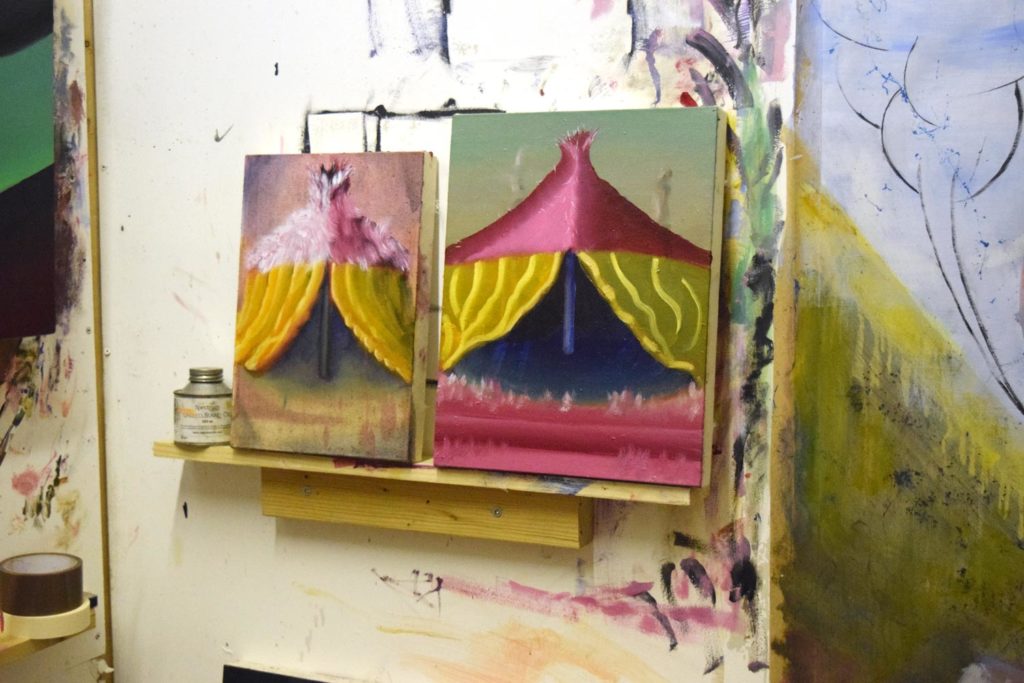 Oil paint studies based on the composition of Piero's painting
Where do ideas start for you? In the studio or being in the world?
My ideas definitely come from both sides of the spectrum. Once you mix pigments and binders in the studio on a glass palette you will see that the resulted substance provokes an ancient primitive feeling. It clearly resembles mud. As if making oil paint and painting is a civilized, cultured, multi-layered, and sophisticated version of leaving a footprint. There is an embodiment to it, there is a physicality there. Painting is a pro-life self-defense mechanism against death and oblivion. Living this body, living as a painter, and making paint like an alchemist in the rapidly developing city of Manchester creates an anxiety: this concrete forest doesn't welcome the footprint. The concrete doesn't like to save any rendition of any footprint unlike nature. So, I guess my ideas are always driven from existence, existents, and existing in the city and then digesting the school of existentialism in the isolation of the studio.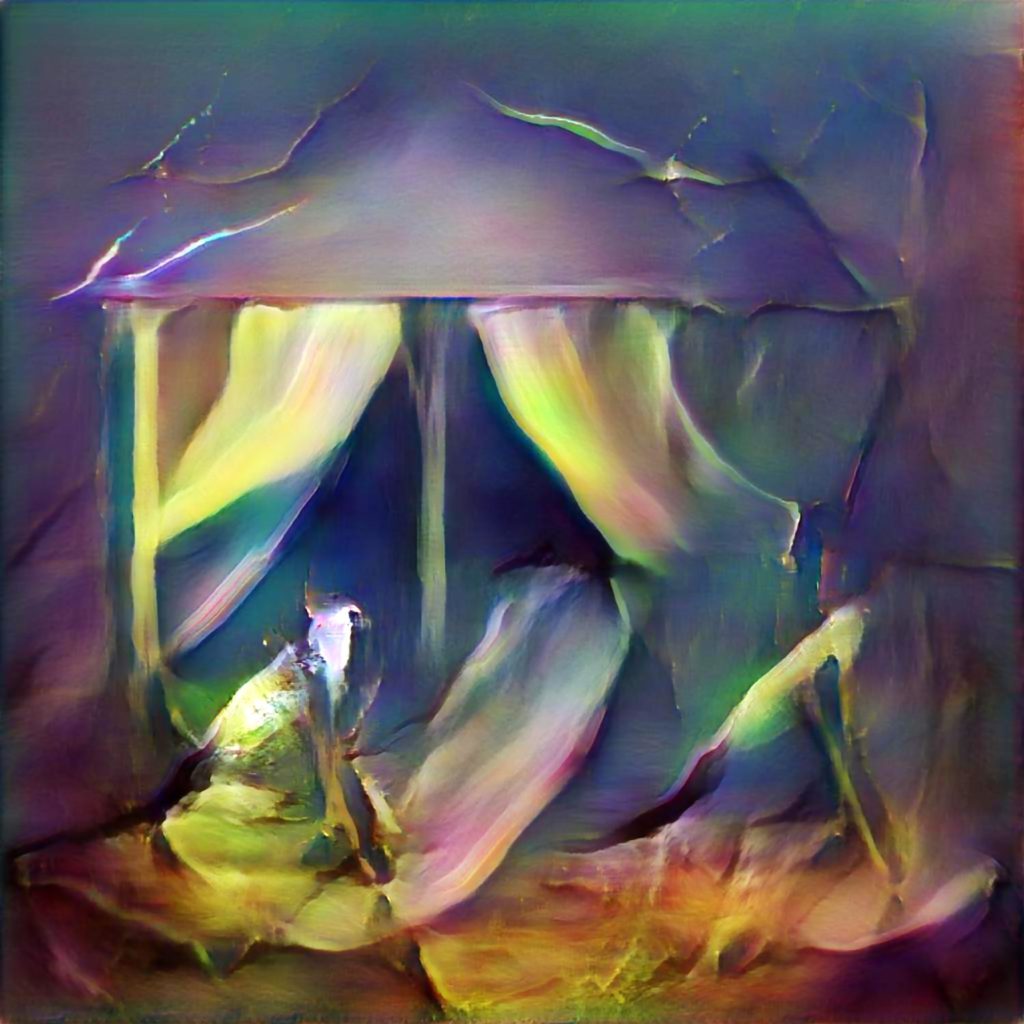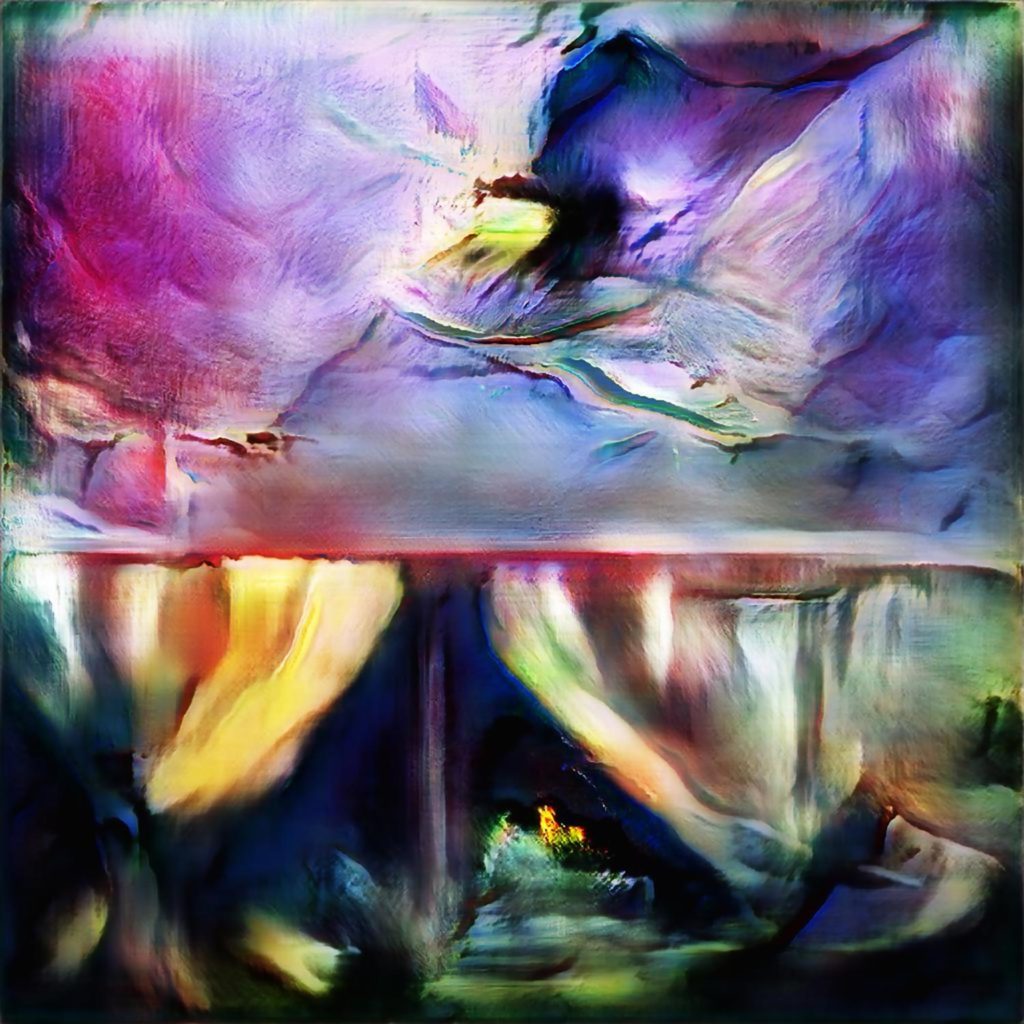 AI-generated images based on my recent paintings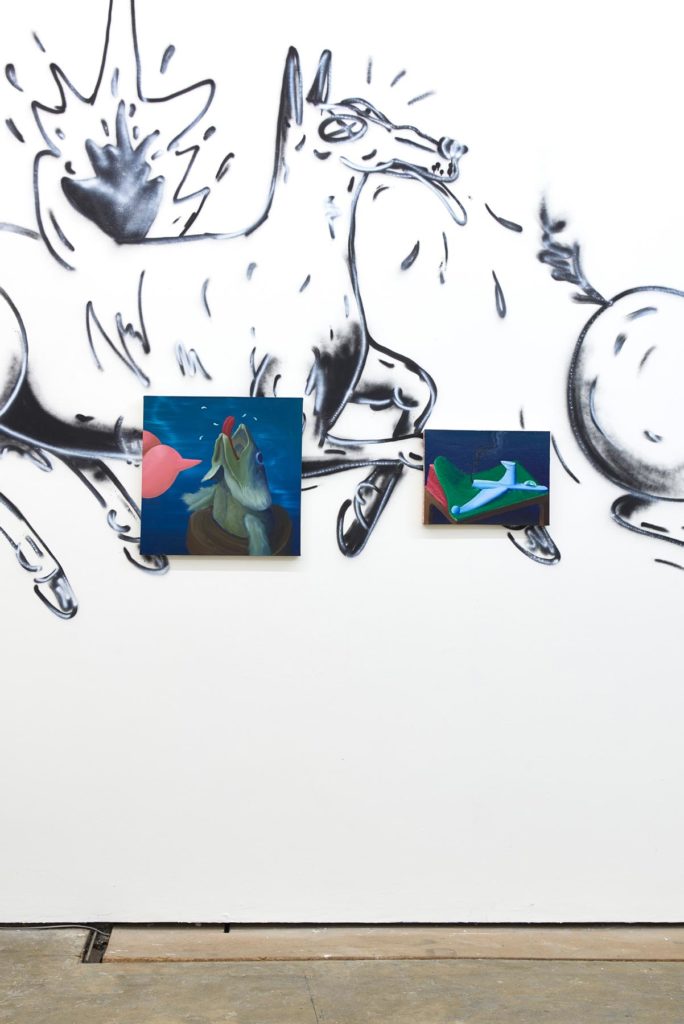 How do you make your work, does it start with a sketch? Can you tell us about your style? How did you arrive at it?
I always make drawings to plan a painting and get the subject matter out of the way. When I'm painting I only pay attention to the surface by employing painterly tools to create complex layers of paint to present a stretched spectrum of paradoxical qualities: soft and rough, thin and dense, immediate and distant, exanimate and fluid etc. This approach is employed to offer tension to the surface in order to oscillate between paradoxical poles, anticipating that the result would be an invitation to look and observe. In order to succeed with such a task, I rely on the train of traditions and histories of painting. In order to apply certain principles, I search for credible compositional structures, alongside other painterly tools and incorporate them by stripping the subject and inflicting my own content.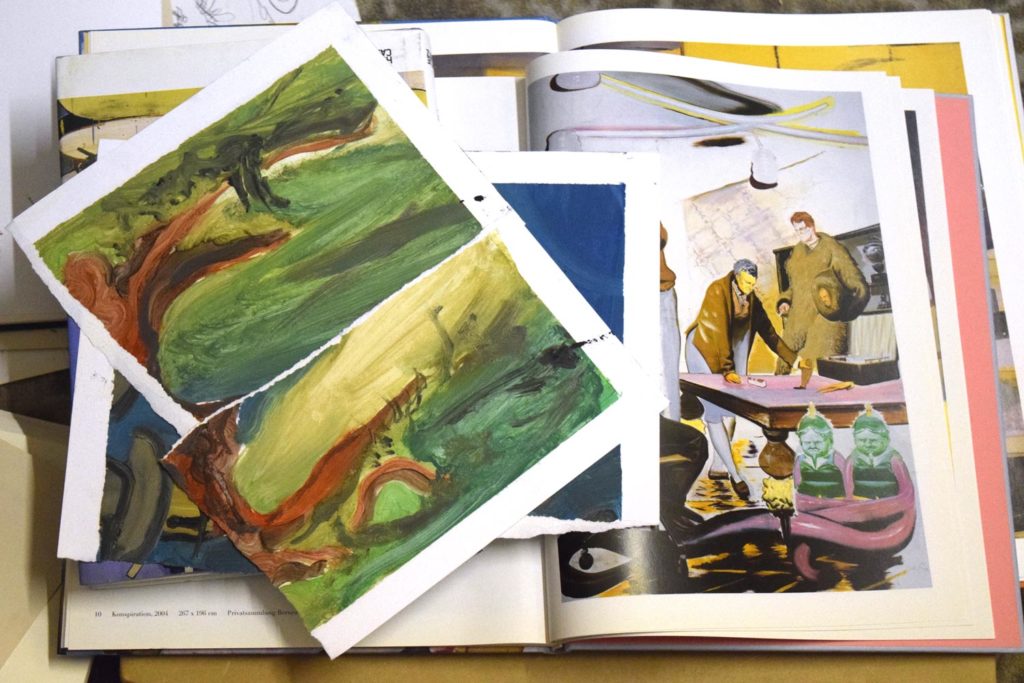 Making little sketches based on Neo Rauch's paintings
Webster's New Collegiate Dictionary describes 'absurd' as a state, where man exists within an irrational and meaningless universe and in which man's life has no meaning outside of his own existence. In such a world, the very act of searching for meaning pushes the curious man into a more unwanted conflict with his universe. That is the space where my paintings and my style happen – a restless struggle to find reason, order - and above all discipline. Just like Sisyphus who protests absurdity by embracing his fate. Perhaps I find painting and continuing to paint an act of co-operating with life without actually being able to come to terms with the displacement. To commit to such theory or style, my practice explores painting through a paradoxical trust and mistrust in relation to the aesthetics of Realism and 2D cartoons, and the possible absurdist method of switching between these two codes. The volume of the absurdity is so immense, it strips off elements of narration or storytelling, to encourage the painting to develop its own identity.
Color pallet

Many artists live by their creative routines, do you have your own studio ritual? What does that look like for you?
If we think of painting as a religion then studios are confession rooms. So, of course, every painter has rituals. Mine is showing up in the studio really at late night. In the past few months, I have been painting from 9 PM to 6 AM, then catching the first tram in the morning to go home and sleep.
Who are your biggest influences?
I am utterly obsessed with the New Leipzig School of painting, Hairy Who & Chicago Imagists, and most importantly Philip Guston.
Studio views
What books or films are an important source of inspiration?
I have drawn inspiration from a diverse range of Western and Middle-Eastern art history such as Caravaggio, Goya, Bouguereau, Soviet Socialist realism, New Leipzig School, graffiti, pop culture, and traditional Persian miniatures. Lately, I have been watching a lot of films which perhaps the "Trouble with Harry" (1955) by Alfred Hitchcock and also "Velvet Buzzsaw" (2019) by Dan Gilroy were the most important of them since both are about the death of painting.
How will Innovate Grant contribute to your practice?
Studios, galleries, art scenes have been absent in the past two years, especially for painters whose practices are all about presence, embodiment, physicality, and perception. Innovate Grant fund will support me to further my practice while there is little to no opportunity out there for emerging painters.

What's the best piece of advice you've been given?
"14. DON'T BE COOL.
Cool is conservative fear dressed in black. Free yourself from limits of this sort"
- The Incomplete Manifesto For Growth by Bruce Mau
What is the best advice you would give to other artists?
Don't think that you are entitled to things. You need to get out of your comfort zone and make things happen.
Behind the Scenes
---
View Parham Ghalamdar Portfolio
Stay up to date with Parham Ghalamdar
Instagram @parham.ghalamdar
www.ghalamdar.com