Artist based in Oakland, California
Harvey Castro, Portrait of the Artist

Tell us about yourself, what's your background?
I'm a multidisciplinary artist and visual storyteller focusing on the effects of climate on migration, identity, diversity, and inclusion. In my practice, I use still and moving images coupled with audio recorded live and mixed with historical content to explore social change issues that narrate resistance and resilience within vulnerable communities.
I'm a self-taught photographer who became enchanted with the camera as a young boy. However, it wasn't until mid-2018 that I discovered my voice, and since then, I have been developing my visual vocabulary.
Originally from Nicaragua, I now live and work in Oakland, California.
On a wet morning, one year after a landslide triggered by six days of constant rain due to Hurricane Eta killed 58 people in the village of Queja, survivors gathered across the street from their old church at the unveiling of a plaque commemorating the names of the victims.
November 5, 2021, marked the first anniversary of the landslide that destroyed the village of Queja. Before the tragic landslide, close to 300 families lived in the village of Queja. When the village was declared a "camposanto," a graveyard, making it uninhabitable, most of these families relocated to Nuevo Queja, a short 30-minute walk through the mountain that separated them. Only about 20 families stayed behind due to a lack of resources and assistance.
"People always come first, and I always aim to photograph them with the honor and integrity I would want to be photographed. I never decouple myself from the stories I'm documenting because that was me; it could be me, it will be me."

View of the hill that collapsed causing the landslide that buried the village of Queja and one of the homes it destroyed in the foreground.
What are you currently working on and where did the inspiration for it come from?
Currently, I'm working on a project documenting vulnerable communities affected by climate change. In 2021 I traveled to Guatemala and spent time in the village of Queja in San Cristobal Alta Verapaz. After six days of constant rain triggered by Hurricane Eta, a landslide destroyed the village, killing 58 people.
I saw parallels to what I had experienced in Puerto Rico in 2018 when documenting the stories of families still affected by the aftermath of Hurricanes Irma and Maria. The 2020 hurricanes, Eta and Iota, hit Central America the hardest, affecting 7.5 million people, forcing Nicaragua, Honduras, and Guatemala to declare states of emergency.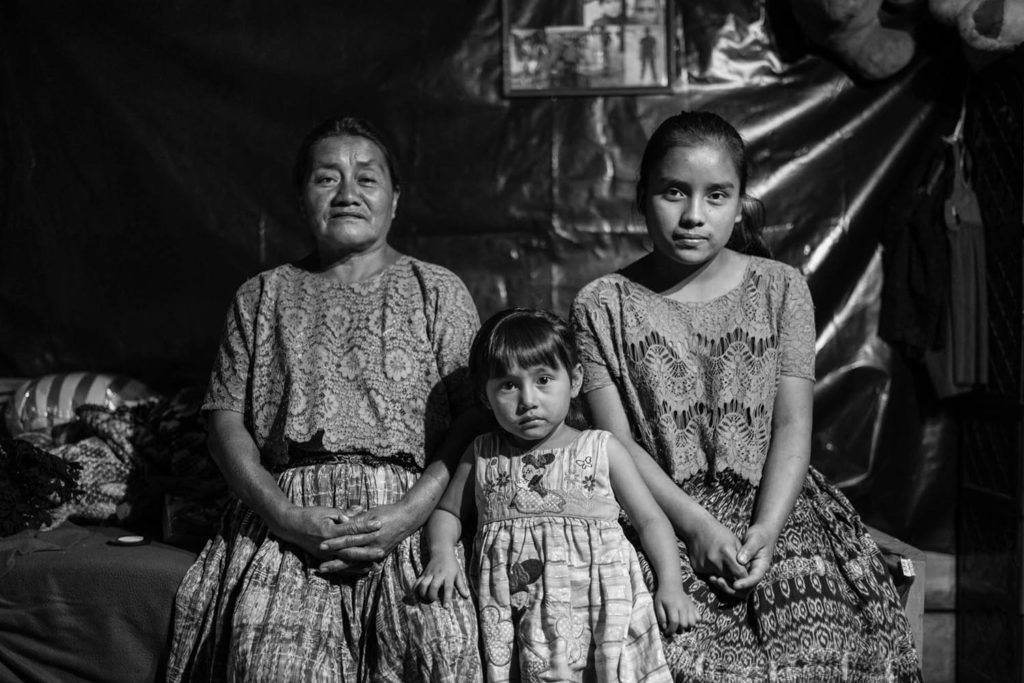 At home in Nuevo Queja, Ofelia Ical Jom (14), right, shares how she and her sister Dora (3), center, lost their parents and six siblings in the landslide. They now live with their grandmother Matilde Tilon; left, and her uncle, an ex-military soldier, pictured in one of the photographs in the background.
Innovation does not only happen in the field of technology — it occurs everyday in an artist's practice. What do you do for inspiration?
I draw inspiration from my lived experience to engage with the people and communities I photograph. As an immigrant and person of color, this genuine engagement allows me to build relationships that result in candid portraits and intimate scenarios taken in public and private spaces.
People always come first, and I always aim to photograph them with the honor and integrity I would want to be photographed. I never decouple myself from the stories I'm documenting because that was me; it could be me, it will be me.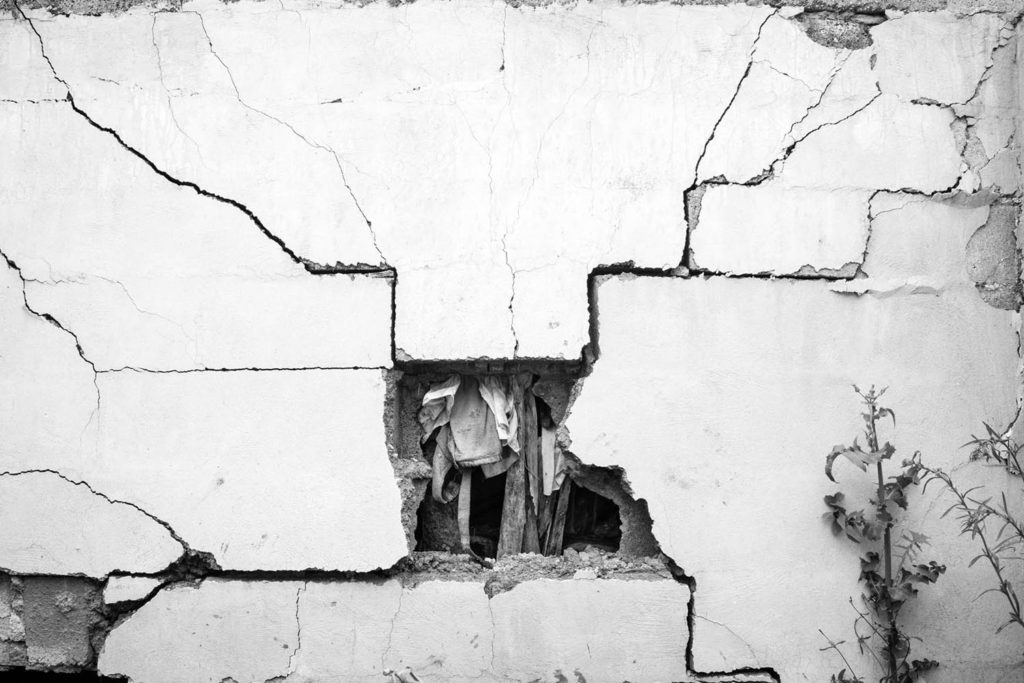 Within a couple of days of the landslide, Ovidio Choc, the mayor of San Cristobal Verapaz, declared the village a camposanto, a graveyard. The landslide flattened the majority of the village, leaving only a few structures left with walls upright. This cracked stucco wall reveals a memory of the people who once lived in this home.
Women gather for a community meeting at their new village, Nuevo Queja. Approximately 230 families relocated, and another 20 stayed behind due to a lack of resources. The landslide survivors have received little to no assistance from the national government. With the help of local collectives and NGOs that have donated wood and roof panels, families have built their new homes.
Just after 12:30 pm, a loud bang announced the collapse of the side of the mountain that buried the village of Queja. One year later, you still find evidence of life left behind in the rubble. In one of the few structures with walls still standing, I found a chair and mattress in a pool of water as nature begins to reclaim the space.
Who are your biggest influences?
I draw inspiration from the dramatic social realism of 17th-century European painters like Caravaggio and Diego Velasquez and master photographers like W. Eugene Smith, Gordon Parks, Henri Cartier Bresson, etc.
Jorge and his wife Sonia inside their bedroom. Jorge and his family lost everything they owned in the landslide, and through donations from friends and family, he's been able to build his new home.
Are there books or films that are an important source of inspiration?
One of my favorite books is Magnums Contact Sheets. Seeing how the great masters worked a scene and decided on a final image is insightful, inspiring, and invaluable.
A woman and two small children stand in front of a plaque containing the 58 names of the people killed in the landslide. Due to the continuing rain, the village site was categorized as a high-risk zone, and local authorities called off the search for survivors, and only ten bodies were recovered.
What's the best piece of advice you've been given?
The best advice I've received is to avoid developing a "victim" mentality and recognize my ability to make decisions for myself. To know that I always have the power of choice, even when it may not feel like it.
What is the best advice you would give to other artists?
The best advice I can give other artists is to believe in themselves and their process. The people close to you support you and want to see you succeed, they will provide you with advice that comes wrapped with good intentions, but only you know when the time is right for you to take a leap of faith. I believe that if you follow your heart, doors will open for you.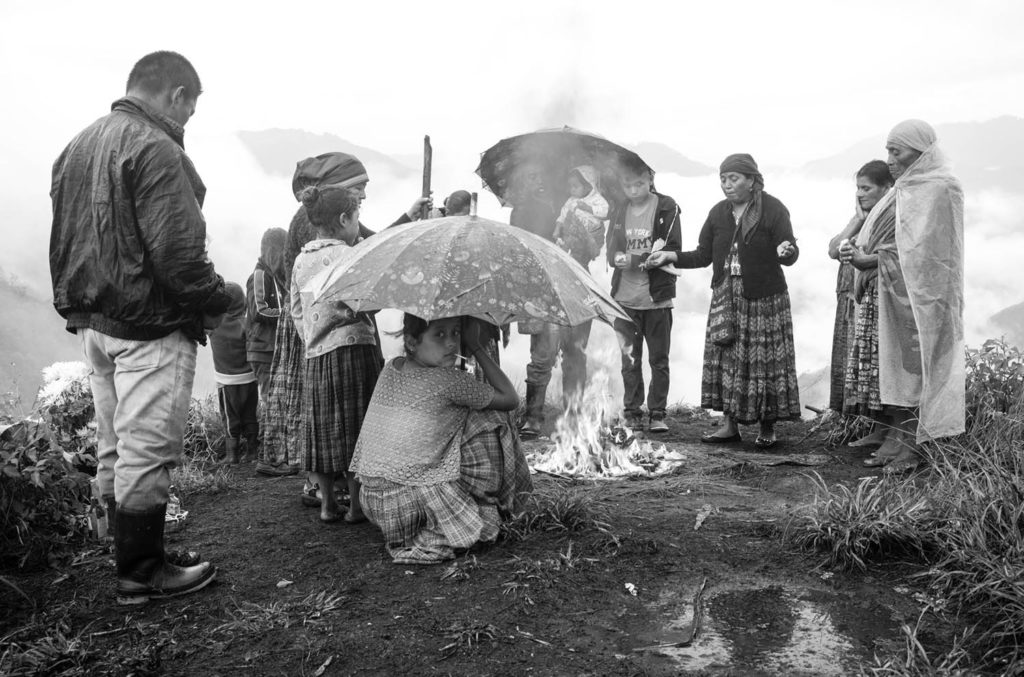 Every month, on the day of the corresponding Nahual, Jorge Suc Ical and his family gather for a traditional Mayan ceremony. Here, a village elder leads the family in prayer to the Nahual Noj, which represents the transformation of knowledge into wisdom and experience.
---
Stay up to date with Harvey Castro
Instagram @harveycastro.co
www.harveycastro.co