Artist based in Berlin, Germany
Elke Foltz, Portrait of the artist

Tell us about yourself, what's your background?
I'm a French self-taught abstract painter based in Berlin. I went to design school in France from when I was a teenager until my early adulthood to become a graphic designer. I always wanted to be creative but it was after finishing my studies that I assumed my deepest dream to be an artist. I have always been more interested in fine art than in design. But in both, I was passionate about the creative process and composition. Right after graduation, I went back to my lifelong passion, drawing. In 2015, after a few years of working as an illustrator, I decided to travel alone to Berlin. I wanted to renew myself and my art in a new environment. It allowed me to expand my artistic approach toward abstraction in painting.
"The big picture or the green valleys" - June 2022 - Ink, oil, pigment, oil pastels, collage on cotton canvas. 155x140x2cm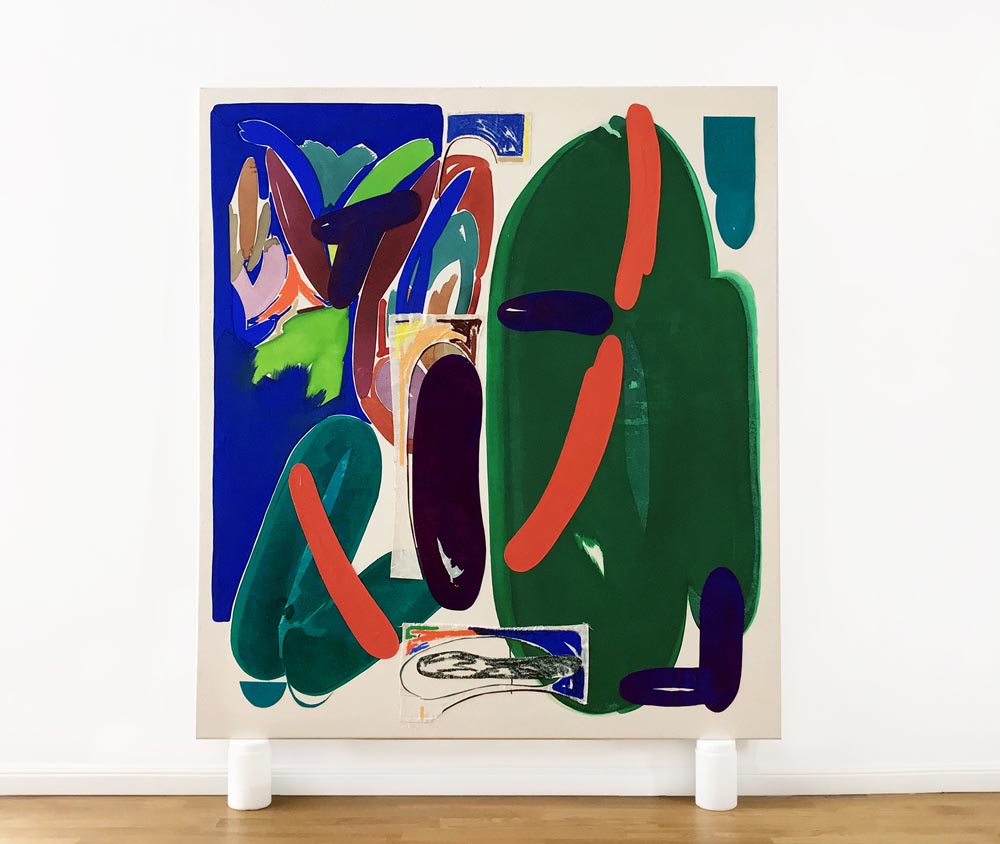 "Fenêtre avec vue" - july 2021 - ink, oil, pigment, oil pastels, collage on cotton canvas. 140x155x2cm
"My search for balance is not about perfection, it is about the "path" with all the failures, successes, and surprises that the creative process can bring."
Atelier view
What are you currently working on and where did the inspiration for it come from?
I am currently working on large canvases, 2m wide. It brings another dimension to my painting work. This scale immerses the viewer in the composition of the canvas. I want to work on an even larger scale. My inspiration comes from questions about what connects us, our life-paths, and the place of the mistake. The main idea in my paintings is to find harmony in this disorder that is life. My search for balance is not about perfection, it is about the "path" with all the failures, successes, and surprises that the creative process can bring.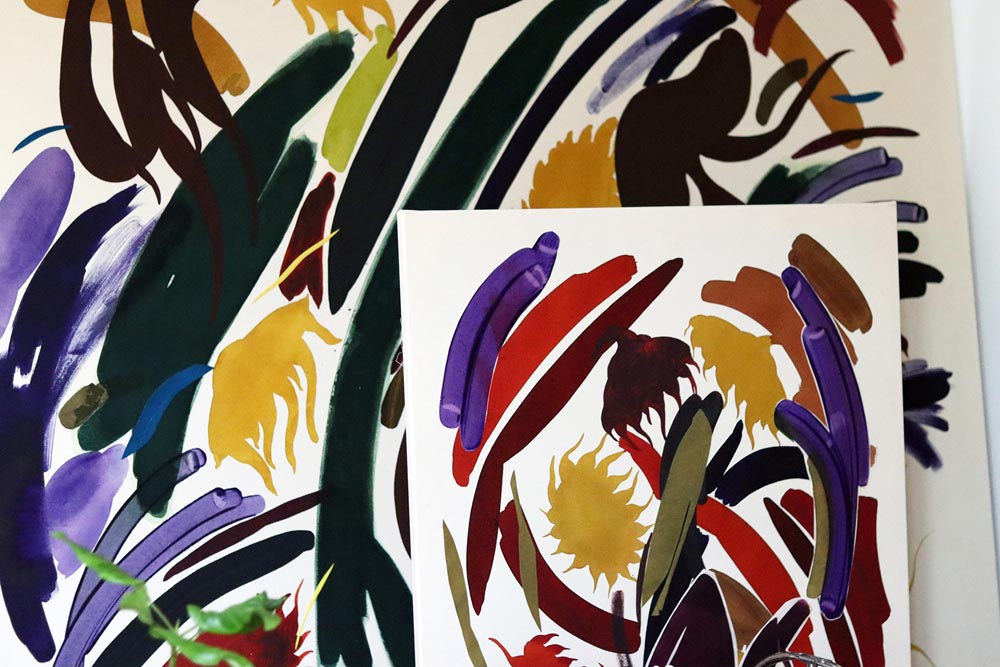 Atelier view
(left) Sister-Sister - sept 2022 - ink, pigment, oil pastels, collage on cotton canvas.- 80x100 cm (right) "An afternoon with you" - may 2022 - ink, pigment and oil pastels on acrylic paper. 50x70 cm
Innovation does not only happen in the field of technology — it occurs everyday in a creative practice. What do you do for inspiration?
I keep a fresh eye on what's around me and what's going on in the world. I observe a lot to find inspiration, in the colors and textures in my environment, especially in nature. I look for small details everywhere, in a fabric, a pattern, a particular light, or the resonance of a conversation or a book I have read.
Atelier view
Describe your practice and process. Where do ideas start for you? In the studio or being in the world?
My painting practice starts by observing colors and textures present in my surroundings. I also write down personal reflections, I make research of colors by computer, and I can start by drawing small sketches of ideas for compositions. Once in the studio, I reproduce colors and textures beforehand, using media such as ink, oil, and pigment to create my color palette and experiments. During my creative process, I cut out failed paintings and set up the experiments before incorporating them back into my work. I cut, align, and sort, almost in a mechanical way. Then I undo everything and start again until finding the right balance in the composition. It leave room for time, distance and to reflect on a deeper purpose.
(left) "Guts"- June 2021 - Ink, oil, collage, oil pastels and hand stitching on cotton canvas. 100x150x2cm (right) "Slow down I & II" - March 2021- Inks, pigment and oil pastels on paper, 360g/m² - 50x70 cm
How do you make your work, does it start with a sketch?
I paint impressions of moments. My artistic process bonds with my emotions and my perception of the world. My working process is a back and forth between experimenting on canvas and paper and painting directly on the canvas. I then incorporate my experiments into my final painting by means of collages. My style is abstract paintings composed by bold sharpes shapes and intense colors layered as an ecosystem, close to abstract landscapes.
Research of compositions and colors for a future canvas.
Do you have your own studio ritual? What does that look like for you?
I would say that every day can be different. It depends if I'm working on a personal project or a collaborative project. If I'm working on a painting, I'll paint until it's finished, but in between, I also give myself some free time and rest. I can be a bit obsessive when I'm painting, so I'm careful not to focus only on my work. I like to listen to music, but I also paint in silence. I try to find a nice balance between work and social life which is not always easy when you're a passionate person. Fortunately, I'm well surrounded.
Composition research before collage - "Like a sweet dance of life, the sun and the flower become one" - Nov 2022, ink, pigment on collage on cotton canvas - 100x150x2 cm
Who are your biggest influences?
There are so many influences and changing thoughts over the years. I would say that one artist, in particular, has really stood out for me in the last few years and that is the work of Julie Mehretu. I was lucky enough to see her work at the Carlier Gebauer gallery in Berlin last year, it was an incredible experience.
Collage research on canvas - "The big picture or the green valleys" - june 2022. Ink, oil, pigment, oil pastels, collage on cotton canvas. 155x140x2cm.
Are there books or films that are an important source of inspiration?
Yes of course, I find my inspiration more in books and music, actually. One book that helped me to understand my personal story a little better is the book "Un chant écarlate" by the Senegalese writer Mariama Bâ. I had the chance to illustrate the cover of her book. But also writers like Bell Hooks and Toni Morrison. And because my first passion is drawing, I love and admire the work of Marjane Satrapi and Brecht Evens. They both really inspired me when I started to embrace my own art.
(left) "Naked dance, diving in the sea and salade de fruits" - May 2022 - Ink, pigment and oil pastels on acrylic paper, 50x70cm (right) "Sweet Lavender" - Sept 2022 - ink, pigments and oil pastels on acrylic paper, 360g/m2. 35x50 cm
How will Innovate Grant contribute to your practice?
Innovate Grant will definitely help me to invest in new materials. I'm really grateful for Innovate Grant and excited to start my larger canvases and exhibit them in 2023!
Elke Foltz self-portrait with the painting "Rooted -  Jan 2021 - Inks, oil painting, oil pastels and collage on cotton canvas, 70x70x2cm.
What's the best piece of advice you've been given?
Don't be afraid to take risks and make mistakes. Your mistakes do not define you, they help you to grow, open your vision and learn about yourself and others.
What is the best advice you would give to other artists?
One piece of advice I wish I'd had earlier is this: If you don't have all the resources you need to be an artist 100% of the time, don't be afraid to ask for help and be nice to yourself. We are not all beginning at the same starting point, don't compare yourself and move forward at your rhythm. Do you and have fun!
---
Stay up to date with Elke Foltz
Instagram @elkeandfoltz
elkefoltz.com
newsletter sign-up