Artist based in Brooklyn, New York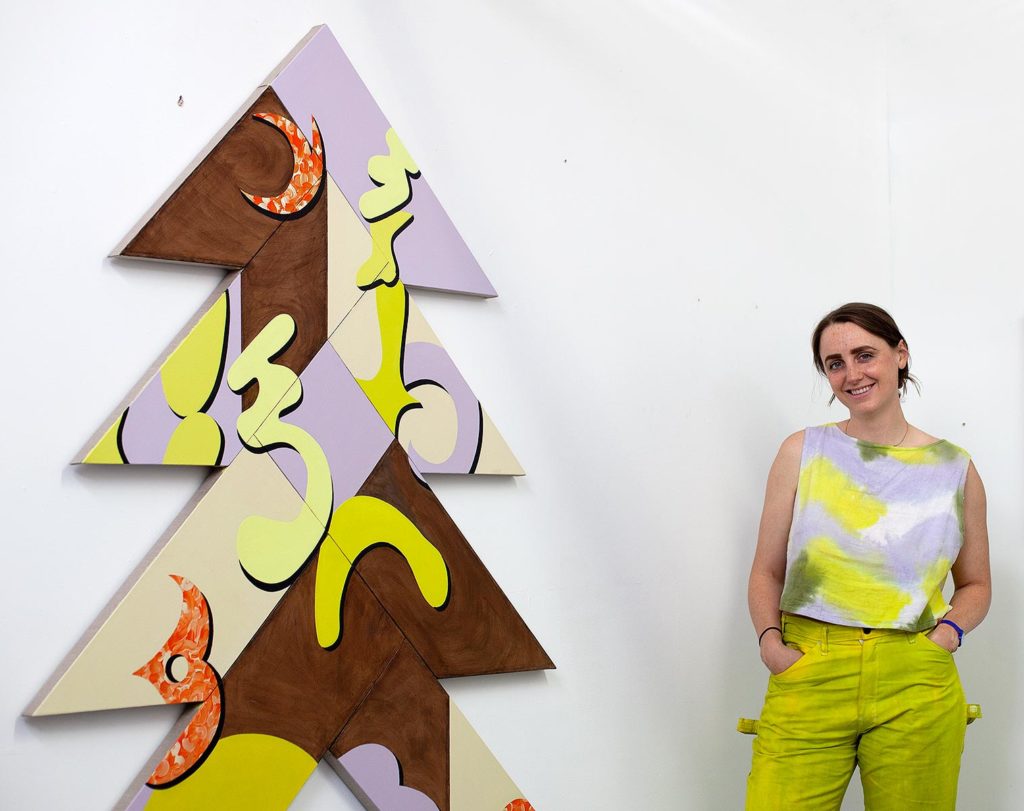 Debbi Kenote, Portrait of the artist

Tell us about yourself, what's your background?
I grew up on a small farm on an island in the Pacific Northwest region of the country. I'm the fourth of five kids and I was homeschooled. I spent a lot of time playing outside, which has influenced my work and my way of thinking. There's a lot of art-adjacent creatives in my family—musicians, woodworkers, writers, architects—and as kids my older sister and I were interested in fine art. I remember being asked what I wanted to be when I grew up, and, after thinking it over for a while, answering "a detective or an artist." I think the adults in my life thought I was a typical unrealistic kid. In retrospect, I think I understood there's a lot of investigative work in being an artist, haha, and was taking the whole thing very seriously.
Prairie Prowler, 2022, acrylic on 3 joined linen canvases, 26 x 54 inches
I entered the public school system at age 14 for high school. I remember being so nervous, and having attendance called in my art class. My teacher stopped at my name and asked to see me after class, which I assumed was a bad omen to the whole public school thing. It turned out he had been following my art at the small local art fairs since I was a kid, and offered to tutor me for free. He advocated for extra art periods in my school schedule and brought in his personal oil paints for me, likely knowing I couldn't afford them. Looking back, that generosity and guidance was priceless. From there I continued on to receive a BFA in Painting and Installation from Western Washington University, followed by a MFA in Sculpture from Brooklyn College.
Cumuloos, 2022, acrylic on 4 joined linen canvases, 57 x 57 inches
"I've had a fascination with borders for a long time ... I was curious to think about painting more like a quilt or an installation."
Kenote working on "Cumuloos" painting in her studio in Brooklyn.
What are you currently working on and where did the inspiration for it come from?
My studio investigations at the moment are a continuation of a jump I made in my process in early 2021. I've had a fascination with borders for a long time, and I was curious to think about painting more like a quilt or an installation. At first, I traced out shapes on my canvases and explored how two different paintings could share one surface, which quickly led to using multiple canvases attached together.
Hemlock Hum, 2022, acrylic on 8 joined linen canvases, 60 x 51 inches
Growing up in rural America, followed by finding myself in the art scene of New York City, has instilled me with a desire to do things my own way. Additionally, when I look back at the history of Western painting, I don't see many women. I think partially my interest in unusual shaped surfaces is a reaction to all of this. It's an attempt to carve out my own lane, brought about by my interests in installation and sculpture.
A Gentle Kiss, 2022, acrylic on 31 joined linen canvases, 43 x 58 inches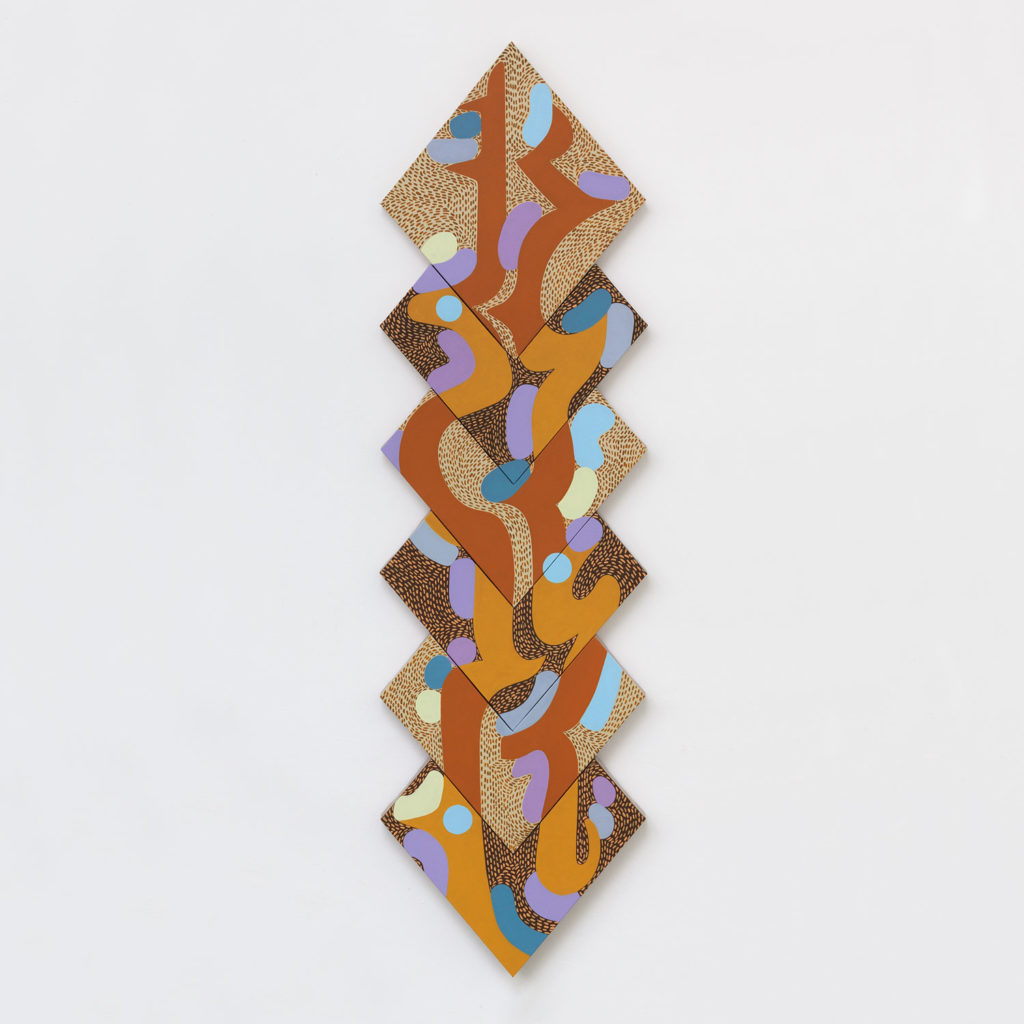 Simmer, 2022, acrylic on 6 joined linen canvases, 60 x 17 inches
Many Moons, 2022, acrylic on 9 joined linen canvases, 36 x 36 inches
Innovation does not only happen in the field of technology — it occurs everyday in a creative practice. What do you do for inspiration?
Growing up on a small island was beautiful, but it was also isolating. My first ever art museum trip was to the Musée d'Orsay in Paris when I turned 18 and it blew me away! My exposure to art growing up was much more craft based, I saw a lot of incredibly innovative wood carving, quilting, ceramics and architecture. These crafts all share a common denominator of design, and I use design principles in my work today. I'm ultimately interested in communication through abstraction. I study how design and rhythm work, to direct the eye or through art and the world in general. I'm also interested in body language, the things that we don't say verbally, but the positioning of our body reveals for us. When I'm working on a composition, I think about how the shapes are talking to each other, how they relate and what the space between them reveals. I'm interested in how the mind puts together symbols and creates stories.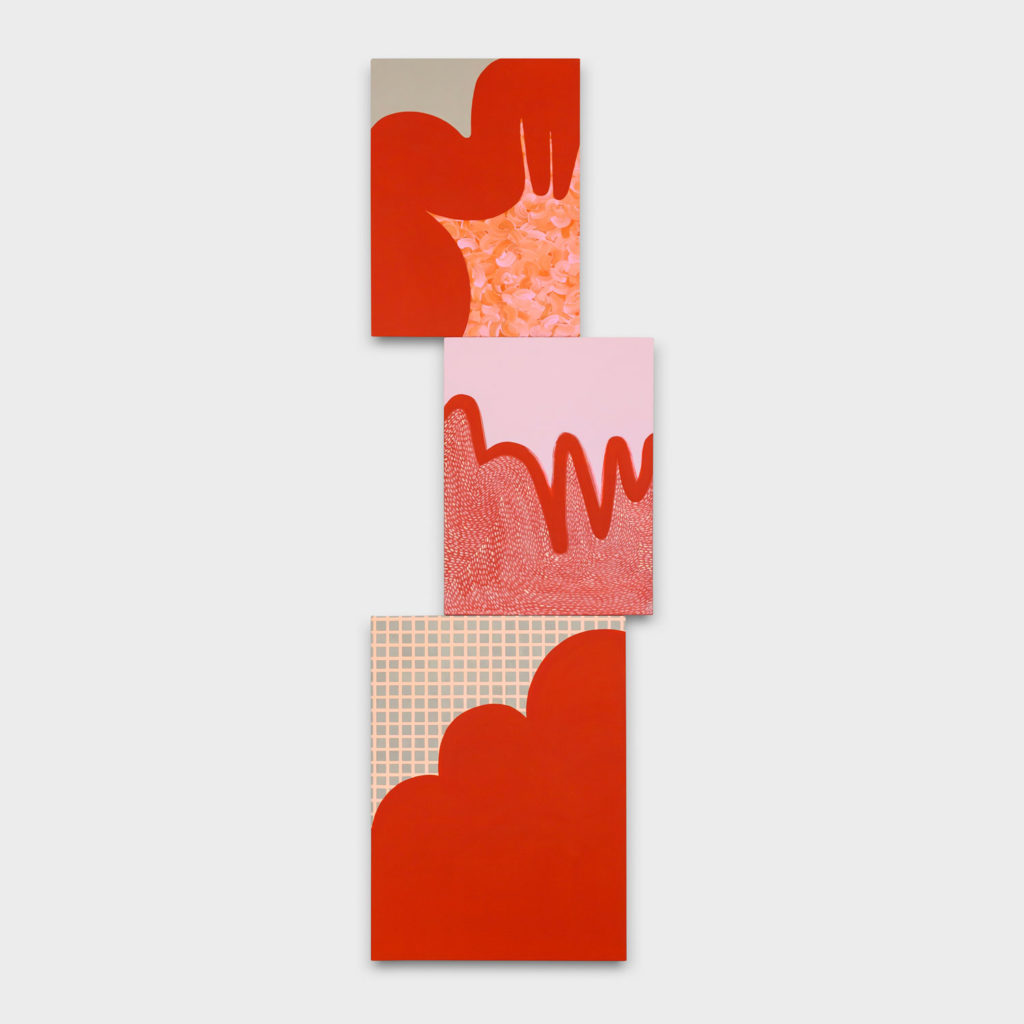 Trumpet Creeper, 2021, acrylic on 3 joined canvases, 78 x 30 inches
Describe your practice and process. Where do ideas start for you? In the studio or being in the world?
I have a studio in Bedstuy in Brooklyn, where I spend a good portion of my time working. I also invested in an iPad recently, and I now sketch on it at home, in addition to pencil and paper.
I start first with the shape of a canvas. I have a gridded notepad I sketch geometric shapes on. More recently I've been thinking about circles, and am getting ready to make the jump to circular shaped stretchers. Once a shape is decided, I begin sketching the painting that will be on the surface and how it will respond to the custom shape I've created. I look for something in a previous work I made as a starting point, and the composition unfolds organically from there. I'm a big fan of vectorizing shapes in illustrator, so I can quickly try out color combinations. I know once I start painting there will be transparencies and enjoyable deviations from the sketch, but it gives me a place to start.
Kenote working on "Prairie Prowler" painting in her studio in Brooklyn.
Working abstractly means, for me, that I don't start with a narrative or a model. It's an intuitive process that is focused around technique, craft, illusion and play. I want to make something totally new every time. I want to see what paint is capable of and what I can do with stretcher bars.
Kenote working on "Prairie Prowler" painting in her studio in Brooklyn.
How do you make your work, does it start with a sketch?
Once the sketching process is complete, I begin fabrication. Occasionally, if I have a deadline, I will build one form then paint it immediately after. The majority of the time, however, I work on a series, creating a batch of forms to paint. I prefer to focus on the woodworking and stretching for a month or so, then I will paint them all as a group after. This has also been very helpful for residencies, especially because the works are modular and can be reassembled after transport. I recently finished a painting in London at the Cob x PLOP residency, titled A Gentle Kiss. This painting has 31 small diamond and triangular canvases that lock together into a rectangle. I packed the paintings in an oversized suitcase, then assembled and painted the work there.
Detail of Kenote's studio
Kenote working on custom stretcher bars in her woodshop in Brooklyn.
Once I have a series of forms ready, I begin painting. I've recently become interested in leaving clear primed linen exposed in the work. My newest painting titled Prairie Prowler is a great example of this. I want my work to feel playful, meditative and somewhat mysterious. I work mostly in acrylic these days, mixing my own paints from the Guerra Paint bases and dispersions. I enjoy the quick dry time and layering possibilities with acrylic. I use a lot of color, which to me is another tool of communication. Even though I live in New York City, I find that my "style" is more associated with the painting I see coming out of LA, perhaps as a result of growing up on the West Coast.
Custom stretcher bars freshly assembled in Kenote's studio
Do you have your own studio ritual? What does that look like for you?
I hope someday to have a proper daily studio ritual. At this stage of my life and career everything feels like a sprint, haha. With that being said, I get into chapters of routine. The one I prefer the most and that seems to work best for me is the following: Waking up fairly early, going for a quick run, taking a shower and heading to the studio. I like to get there by noon and settle in with some lunch. While eating, I observe the day before progress, and I take some notes and respond to emails. I like feeling like I've got everything out of the way so I can really settle in. The sunset in NYC is between 4:30-9:30 PM, depending on the time of year. I like working with daylight as much as possible and I really need 4 or more hours if I'm going to be painting or woodworking. Music wise I listen to a variety of things. I also go through a lot of podcasts and audiobooks. My partner is a DJ specializing in 80s-90s house vinyl. He has added a lot of great work music to my studio practice.
Kenote working on "A Gentle Kiss" painting in London at the Cob x PLOP Residency. Photo credit: Joshua Tarn
Who are your biggest influences?
There's a lot! In addition to the local crafters I grew up with, I find inspiration from other artists. Matisse and Elizabeth Murray are big ones. I like to think they would be excited about the work I'm making now. I have a lot to thank them for, they paved the way for the abstraction and custom shape making I'm doing today. I also look back at the work of Isamu Noguchi and Emily Carr. Even though their work is very different, they lived on the planet at the same time and they both didn't fit into the society they were born into. There's a displacement in their work, an in-between abstraction and realism, a questioning, that I'm both drawn to and relate with. I admire contemporary artists as well, especially Laura Owens, Rebecca Morris and Robin F Williams.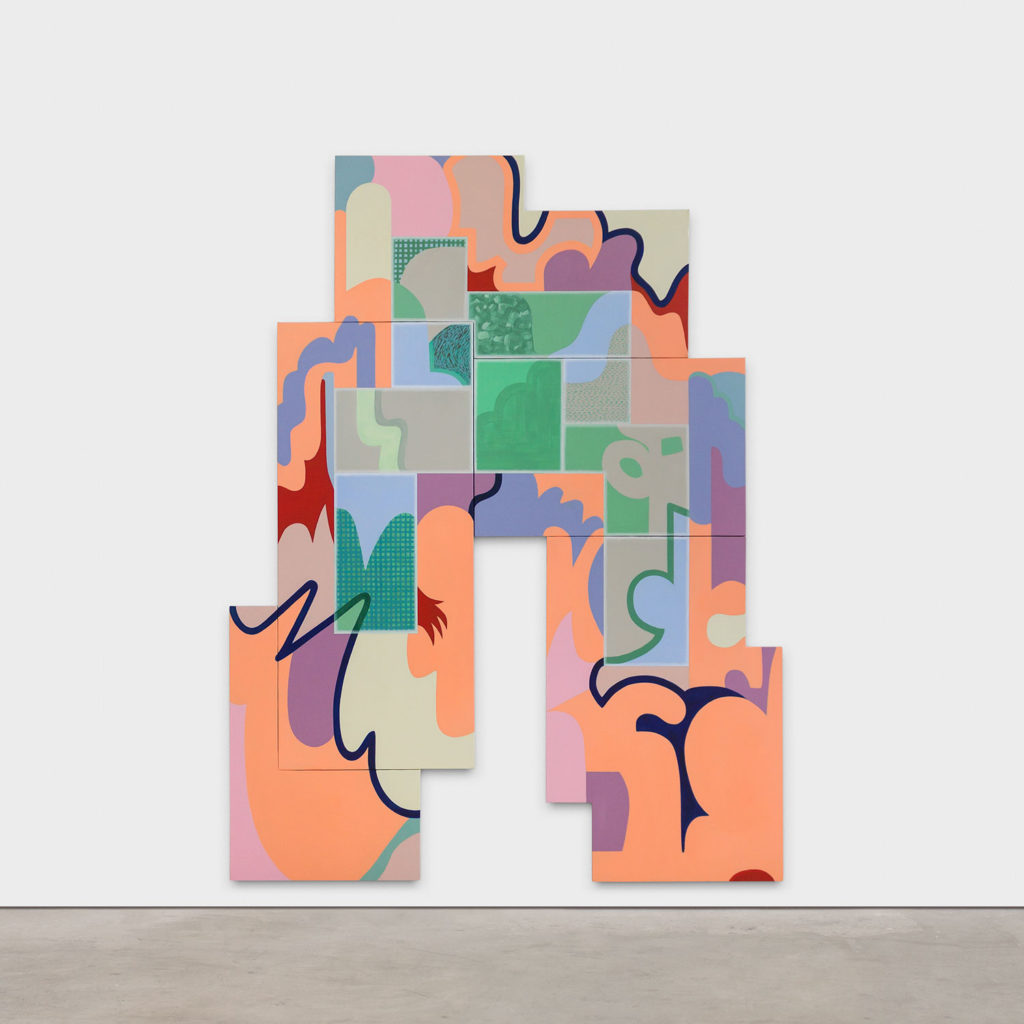 Noontide, 2021, acrylic on 5 joined linen canvases, 81 x 61 inches
Are there books or films that are an important source of inspiration?
I've come to realize that the original 1937 Walt Disney Snow White had a big impact on me as a kid. It's visually an incredible movie, it's all hand drawn. The scene where Snow White gets banished into the forest really stuck with me. Growing up, my parents house sat on the edge of an old growth forest of evergreens. My imagination went wild playing in there, and to see the trees anthropomorphically come to life in that film really awakened my little kid art brain. I had a realization in 2019 that a painting I had just made titled Mamushi, was really a strange memory of that scene. It's funny how things stick with us from childhood. I also really love David Lynch and Hayao Miyazaki films. I like where real life turns into the abstract or absurd, for the sake of deepening a very real emotion or metaphor for life.
Mamushi, 2019, acrylic on canvas, 75 x 63 inches
Where can readers learn more about you, connect, and follow your work?
My website is Debbikenoteart.com. The only social media I use is Instagram, but I use it actively so it's a good way to see my process and to keep updated for future shows. For those that want to see the work in person, I have some shows coming up: a co-show in Montreal with Duran Mashaal in August, a group show with Fir Gallery in Beijing in October, and a three-person show with SOIL Gallery in Seattle in November.
Velvet Moss, 2021, oil on linen, 75 x 63 inches
What's the best piece of advice you've been given?
I was told that as an artist you have to be comfortable with uncertainty. Every human lives in uncertainty, but artists are confronted with it constantly. I've gotten used to not knowing what next year, or even next month, will totally look like. It's scary, but there's a freedom in letting go and just focusing on what's in front of you.
What is the best advice you would give to other artists?
Everyone has imposter syndrome and everyone gets rejections, it's part of life. Spend less time examining your worth and more time examining your interests. What do you really want to make?
Kenote working on "A Gentle Kiss" painting in London at the Cob x PLOP Residency. Photo cred: Joshua Tarn
---
Stay up to date with Debbi Kenote
Instagram @debbikenote
debbikenoteart.com