Photographer based in Sebastopol, CA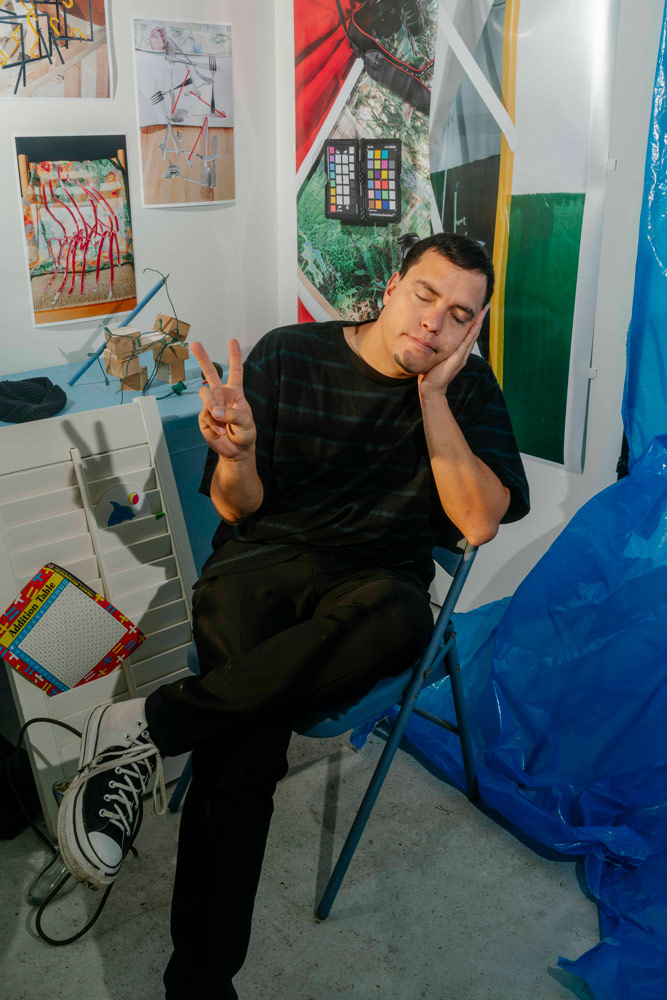 Anton Kuehnhackl, Portrait of the artist

Tell us about yourself, what's your background?
My background is in general construction/carpentry and caregiving. So quite unique. Each of these professions requires a "hands on" approach and dedication to a "hard" work mentality.

I grew up in a normal working class household, where the arts weren't encouraged or discouraged, just seen as something you can do, one of many paths in life. I did consume a ton of advertising imagery flipping through magazines shopping with my parents however, which I believe greatly informed my practice later on, when it started.
Damn, That's The American West…?, 44x60" Archival Inkjet Print, 2021
I attended "Art" classes growing up, like everyone else, but didn't have that initial spark or interest until much later, when I was in college. The original plan was to pursue a writing career, but when that floundered, I decided to pick up the arts out of curiosity. Wondered if this major could go from a "hobby" to something professional. So far, I've managed to meet my expectations, of working full time and focusing on a "practice" in my spare time.
"101 Dalmatians? Bro More Like 101 CVS Reciepts" 2022, 16x20"
"My background is in general construction/carpentry and caregiving. So quite unique. Each of these professions requires a "hands on" approach and dedication to a "hard" work mentality."
Kuehnhackl working in the studio
What are you currently working on and where did the inspiration for it come from?
"A Thing Like You and Me" has been an ongoing project since 2018. At first it was an investigation into how far I could push an image, until it become something else, but now it has transformed into how much push is needed to change an image, but still retain its original qualities. I want the viewer to be challenged by what they're looking at but also feel its something recognizable, familiar.
"Flower Set, On the Roadside Tho…?" 2022, Archival Inkjet Print, 16x20"
"Wow Stirring Up the Pot on Vacay Huh" 2022, Archival Inkjet Print, 16x20"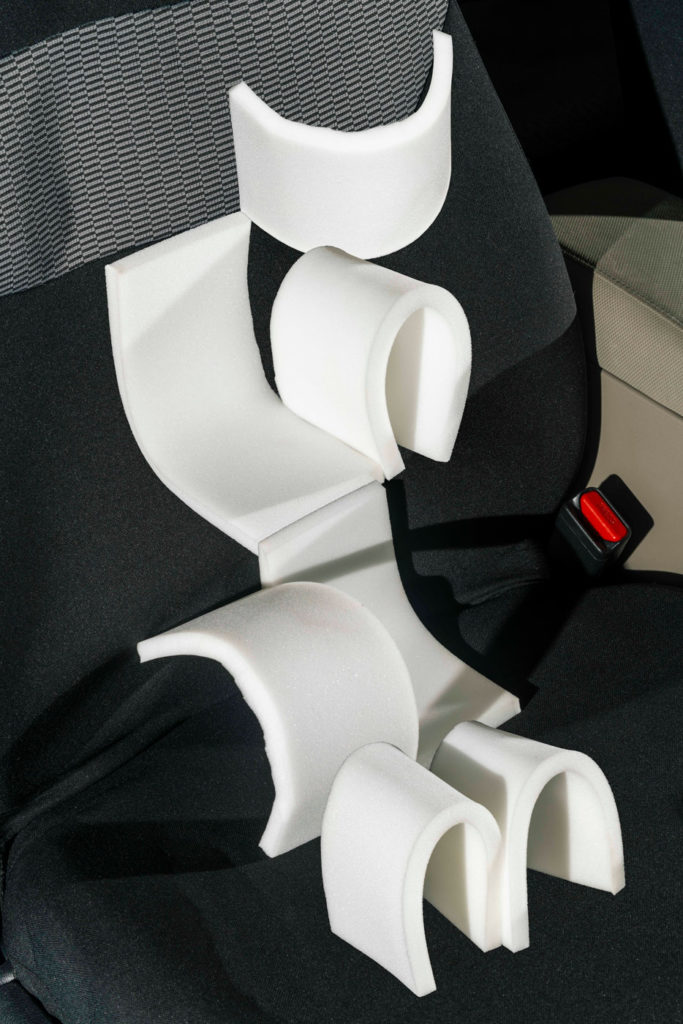 "Yeah…But In The Front Seat Tho…?" 2022, Archival Inkjet Print, 16x20"
Innovation does not only happen in the field of technology — it occurs everyday in a creative practice. What do you do for inspiration?
It mostly comes out through just working, then thinking about the objects I'm using while working…things like bricks, wood, nails, roofing shingles, etc. Considering its properties as an object and how it would look with other material that's similar in certain formations.
Material Study (Still Life)
Describe your practice and process. Where do ideas start for you? In the studio or being in the world?
A lot of it is just being in the world, and from interactions with objects I use in my daily life (caregiving/construction), I'll think of ways to use them in setups/still life's later that day. I have a box of "toys" which is really just scrap from construction jobs that I keep in studio to build/play with. Not too big on being cooped up in the studio, unless its to work on the production of my imagery. I find that a balance of being out in daily life and taking parts of that to flesh out as objects/setups in studio, gives the work a more natural/complete feeling.
Kuehnhackl working in the studio
Materials in Studio
How do you make your work, does it start with a sketch?
When ideas come to me, I'll write them down immediately and try to act on it right away…it'll also be sketched out very roughly; But if i don't take action right away and let the idea sit/stew I lose interest. The reverse is also true, expectation vs reality; If there's too much focus on an idea and involvement, that energy burns up quickly.
Detail of studio
Is This Wallpaper, Or Packaging? Either Way, Peels Right Off!, 44x60" 2020
Do you have your own studio ritual? What does that look like for you?
My specific ritual is that I do not listen to any music when working on my constructs/setups. Feel its too influential (especially music with lyrics) to my thought process while working on building something, plus I've got millions of thoughts going in and out while setting up these builds. When editing the images, I'm usually listening to music that could be considered "white noise" (instrumental, house, deep house, techno, etc) as this helps me focus and tune out.
Scene from the studio
Who are your biggest influences?
At first I was really into artists like Barbara Kasten and Eileen Quinlan, and thought I could make works similar to those, but quickly grew tired of making work that looked "flashy" but lacked substance. I also always admired the work of artists like Lucas Blalock and Nico Krijno who's unconventional approach to questioning the photographic medium, pushed more of a child like play. I began to follow this path more and more, being less serious with my works.
Paper Sculpture in Squat, NOT Recommended by CDC!, 44x60" Archival Inkjet Print, 2021
Are there books or films that are an important source of inspiration?
Too many to list but, "Photography is Magic" by Charlotte Cotton and Under Construction: New Positions in American Photography by Foam Magazine are ones I frequently return to.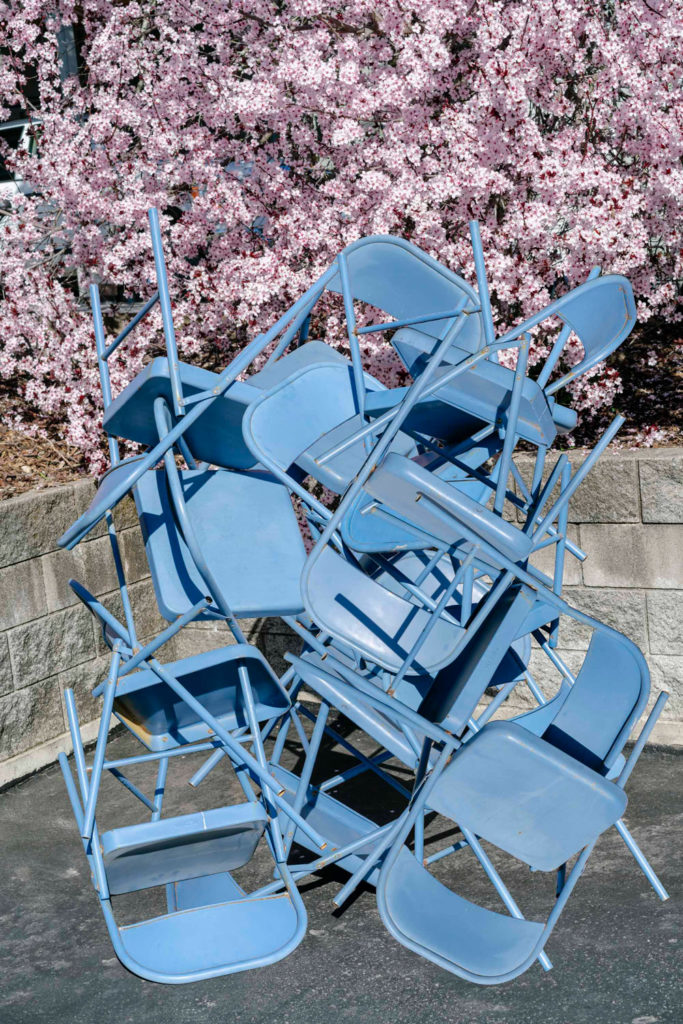 Sunday Chairs, But Its Not Even Mass Yet!?, 44x60" Archival Inkjet Print, 2020
How will Innovate Grant contribute to your practice?
This grant will finally give me the much needed funds to complete the flooring situation in my studio and move out of a temporary space! It will also allow me to produce several larger works. I am forever grateful for this award and the necessary and needed push it gives me with my practice.
Studio view
What's the best piece of advice you've been given?
"Why don't you just shoot the stuff in your house?"
What is the best advice you would give to other artists?
Constantly and consistently make something, daily, every other day, whenever…just make sure the intent is there in the work. Everything else will fall into place.
---
Stay up to date with Anton Kuehnhackl
Instagram @antonkuehnhackl
antontonton.com